Hi, everybody! How are you doing?
It has been like a rainy season, we don't have many sunny days lately:(
I reported about a secret view point of Aso Nakadake crater last week.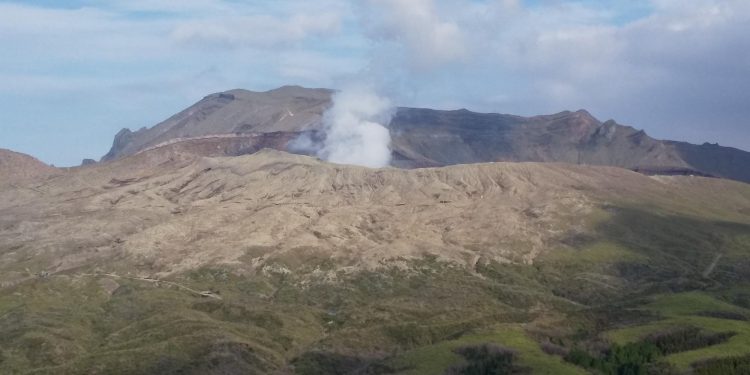 I actually climbed on top of Mt.Kishima on the same day before visiting the crater view point.
So I would like to share the great view from the top of Mt. Kishima today.
After you park the car at Kusasenri parking or arrive there by bus, please find the trail gate to go to Mt.Kishima. It is located at the end of the parking. ( Nakadake crater end)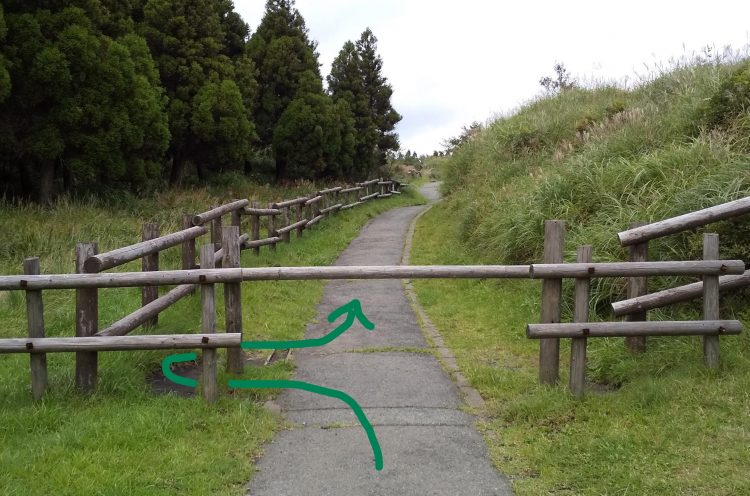 The first sign is only 20 steps from the gate 😀 We will turn left here.
Actually you will see Mt.Kishima on your left, so you will never get lost if you aim the mountain.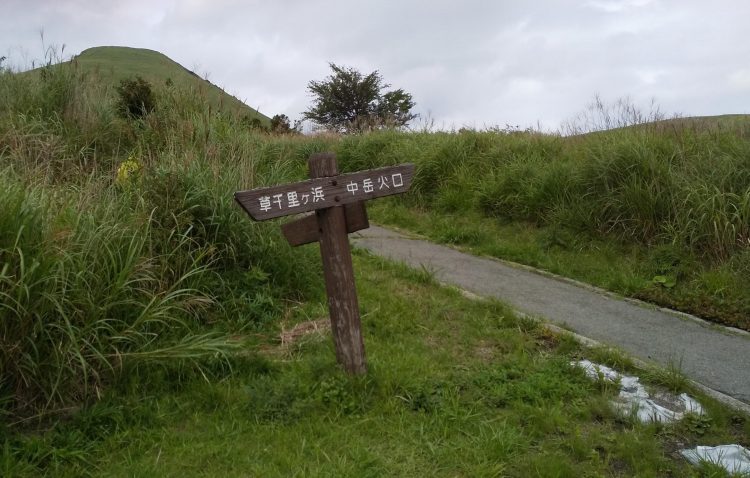 This trail is covered by asphalt or concrete. Probably it is not fun for the experienced hiker though, I thought it is good idea for the beginner hiker or family travelers.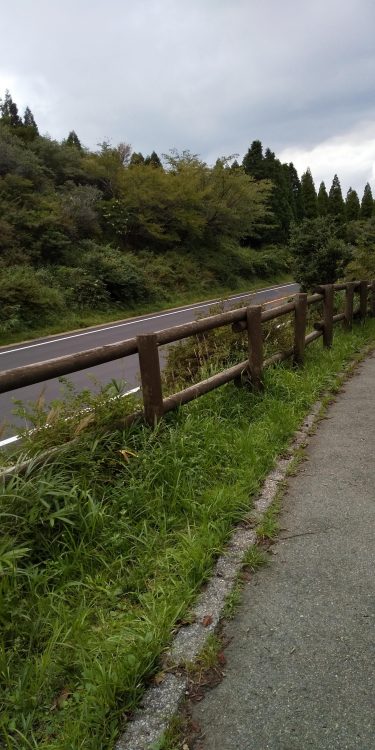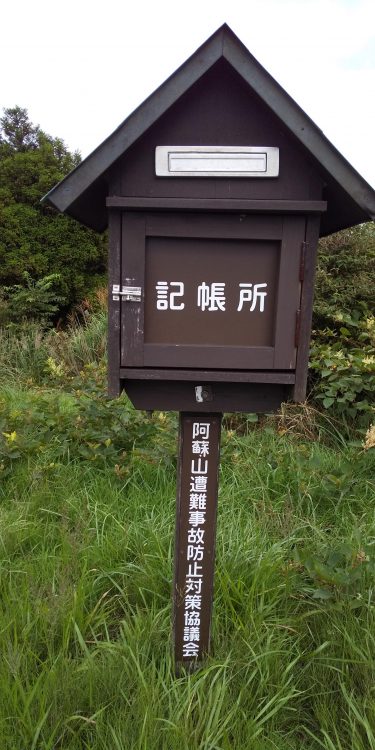 Just following the trail for a while, here is a post to leave your info before climbing up the mountain. It is not bad idea to do this honestly in case something happens. We are not that far from the active volcano!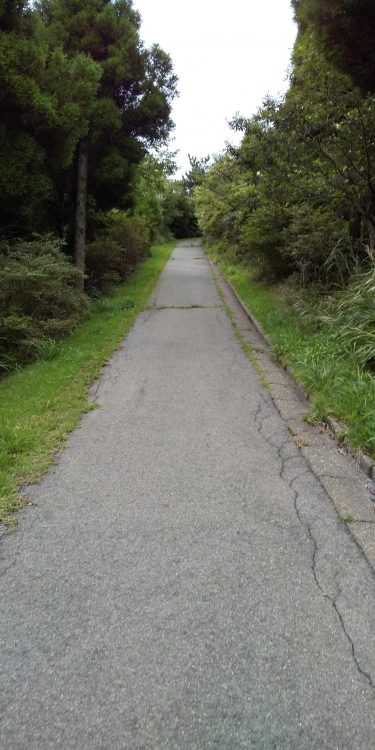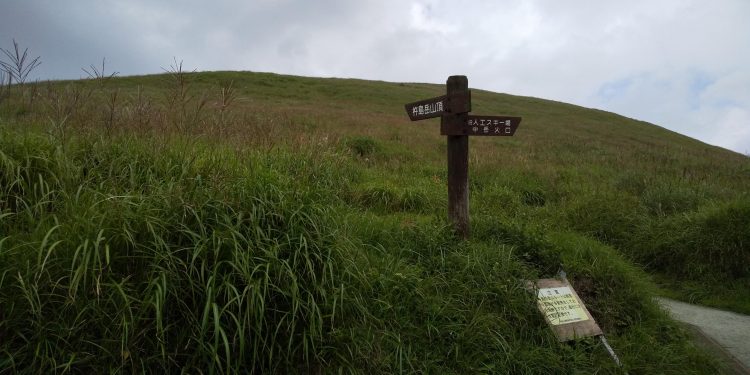 You will see another sign here. Now Mt. Kishima is quite close to you.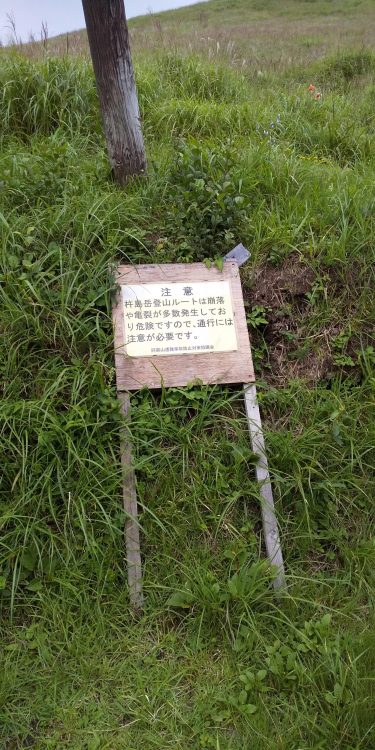 This sign says "There are many cracks or collapsing at this Mt.Kishima trail, so please be careful"……Oh,I see……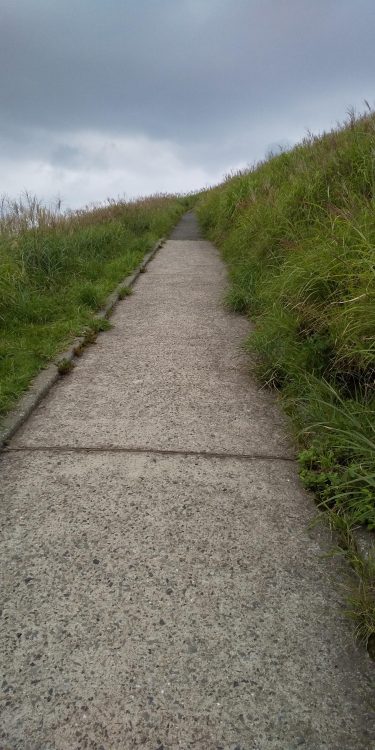 It was easy slope till this sign, but now I can feel that the serious business is coming right there…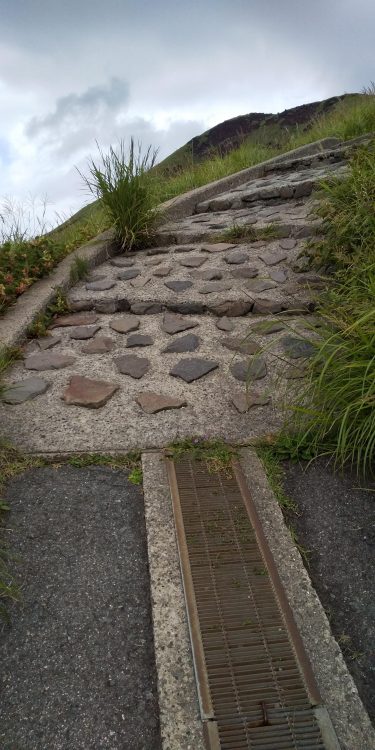 And then finally I see it.
The starts of the 800 steps…💀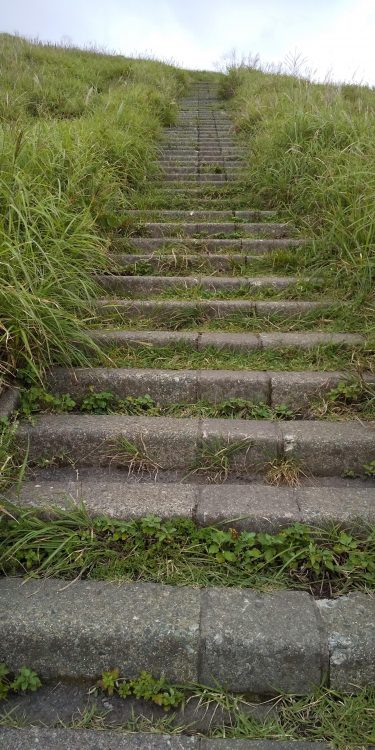 Mt. Kishima is covered with beautiful pasture, and there are no woods to block your sight.
I don't know if it is good or bad, you will see your goal and also the ladder (steps) which go straight up to the top all the time.
Somehow the view you see in front of you is never changes, no matter how you go up the steps… ( that's what I felt anyway)
But if you look back, I guarantee the great view will cheer you up.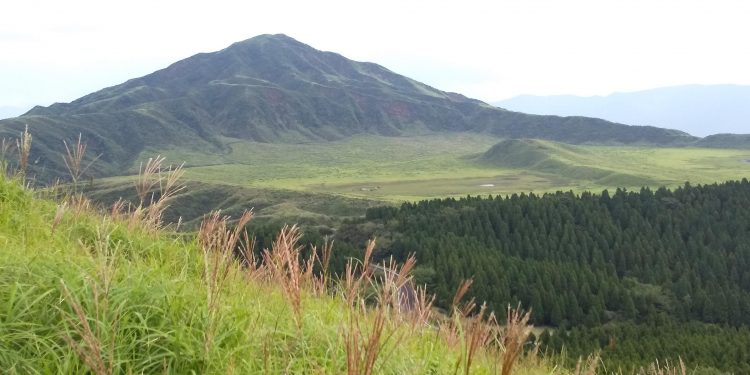 It is already amazing view here, what will I see from the top of the mountain?!  Only that expectation motivated me to go up that never ending steps.
I couldn't decide when I should stop at these steps ,but finally I found a space beside the steps where I can stop and drink some water. (It looks like everybody takes a break here.)

I waited until I got my breath back and said "After a while" to the beautiful view.
I turned around and started again. Not much left to the top, it should be, has to be! No more looking back….. and yes, I made it!!

Nobody was there, I couldn't help myself shouting
"Awwww, I'm here finally!"

Look at this beautiful view from here…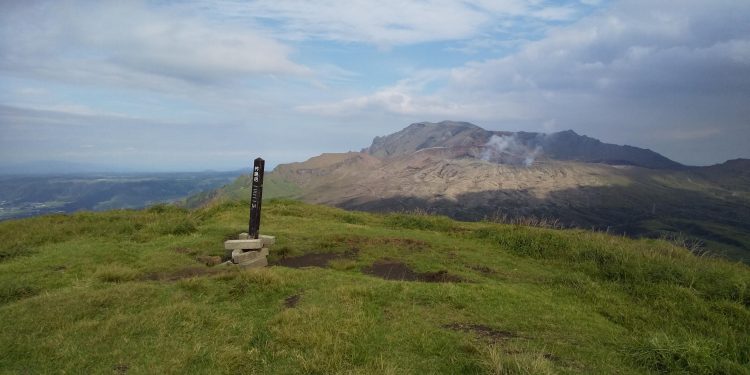 The crater is below us, now I see how Kusasenri is beautiful as a part of this scenic view.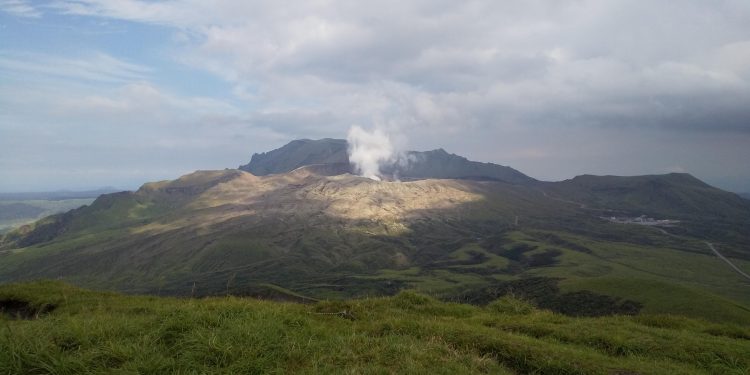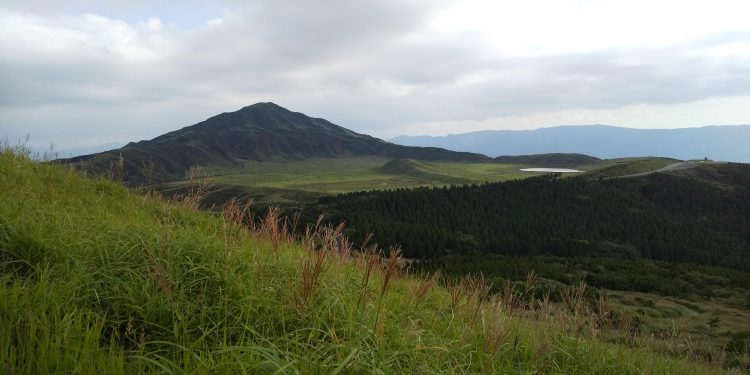 I would like to be on the top of Mt.Eboshi next time to see Kusasenri from the other side:)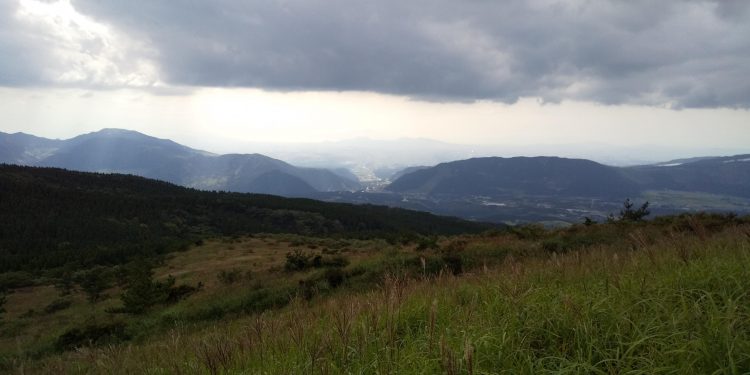 I bet you will see Kumamoto city on clear day.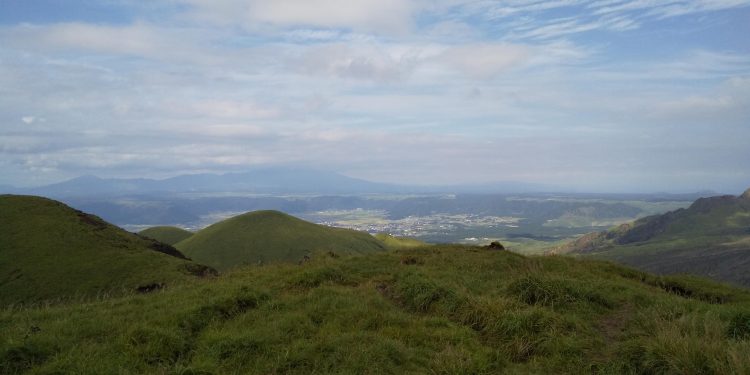 Mt.Oojo and Aso city.
Here is a panoramic video I took. Please enjoy it.

I could go around the top of mountain in 20~30 min but I didn't try this time since I was by myself and I saw some cracks and fractures. I would like to come back some day.
Going down was easy.
I was enjoying finding tiny wild flowers in pasture.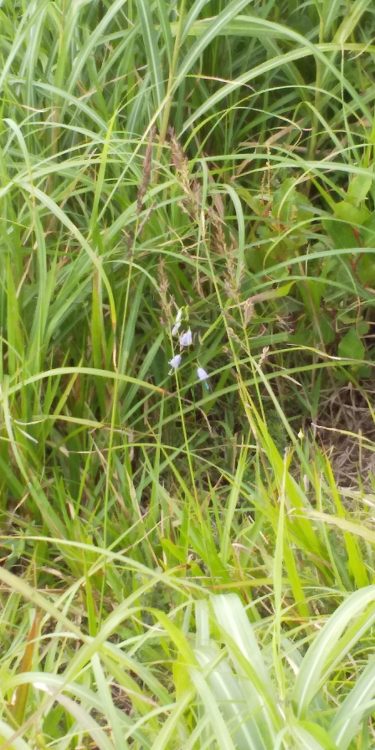 I went to the Nakadake crater view spot after this, but if you go only Mt.Kishima, the total time to go and come back would be around 1 hour. (35 min to go up)
Please refert to this map.
The steps at this trail were a bit hard, but I felt so well after all.
If you have a chance to come to Aso, you can try this trail even you are a beginner hiker.
I can recommend to family with kids/5-year-old or older as well!
We are looking forward to seeing you someday in Aso:D
Have a great day~.
Kana