Hello everybody, how are you?

It is sunny here today, and very nice.
We can see Aso mountains from Michi no Eki Aso clearly:)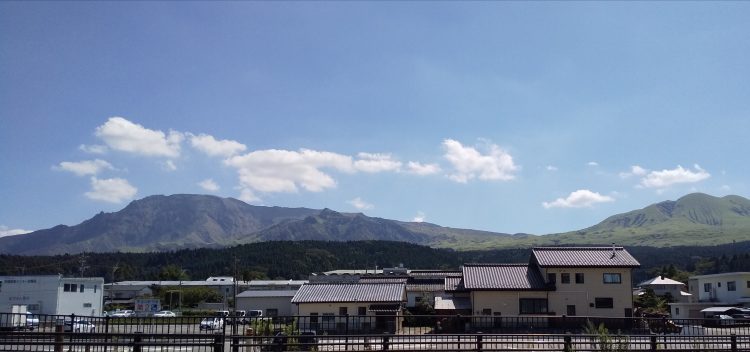 Well, but unfortunately, the wind direction is not good for us to look  the crater closely today.
Due to the volcanic gas, we are not allowed to enter the view spot which is located right next of crater, even though the current restriction level is 1.
It happens sometimes, and it is really a shame for the tourists who are looking forward to seeing the Aso volcanic crater.
Especially, on such a nice day, nobody expects that you are not allowed to see it.
We cannot do much with Mother Nature, though.
I took a hike the other day to know better how those Mt.Aso trails are.
Please note that I am not an experienced hiker at all. I am just regular 40 something woman.

I took a trail to get on the top of Mt. Kishima. I will share the info about Mt.Kishima trail later, so today I would like to introduce an easy trail to see Nakadake crater closer even in the condition like today.
You can check this site before you go to Nakadake crater, and you will know if you are allowed to enter or not.
When the restriction is in force because of the wind direction (volcanic gas covers the observation area) on nice clear day like today, why don't you try this trail?
You don't need special gear, or stick. If you have flat shoes to walk for 1 hour, yes, let's go!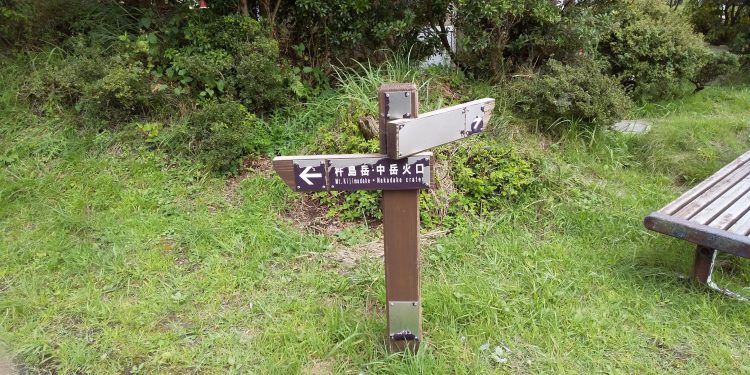 The start point is at the very end of Kusasenri parking, which is closer end to the Nakadake crater.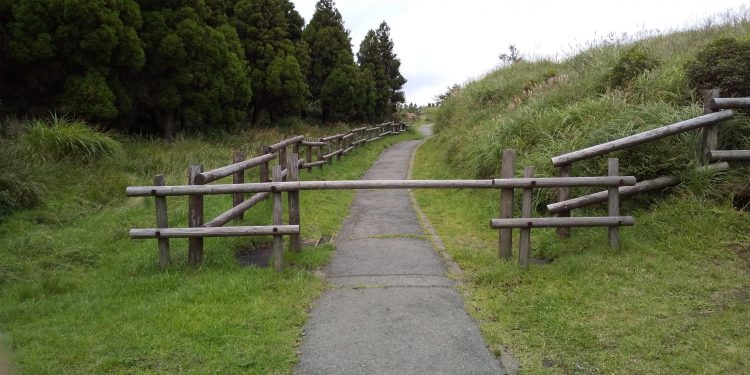 It looks like the gate is closed at first glance, but don't worry, you can pass the side, the bar is just for cars.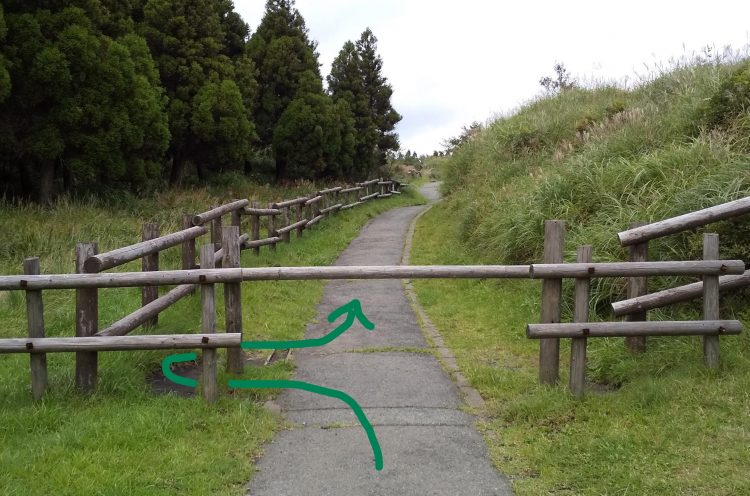 You will see the first sign in only 20 seconds 😀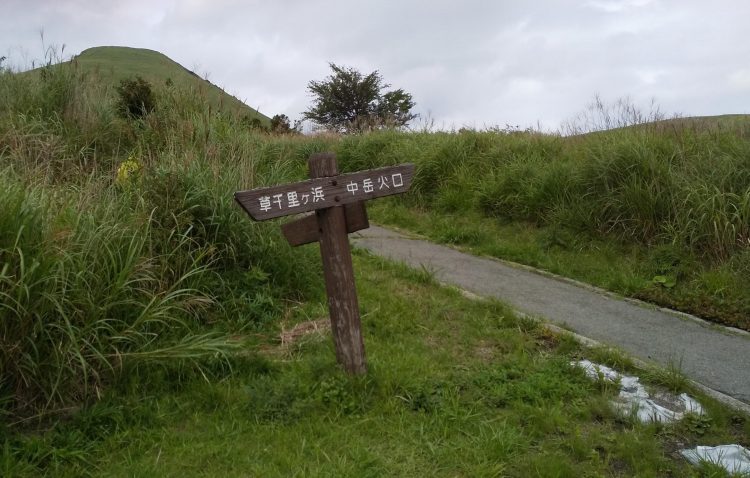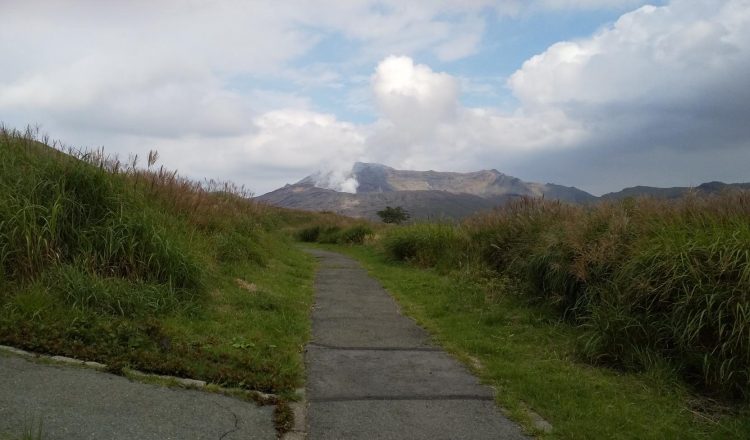 I know you see the crater from here….
but I recommend turning to left now!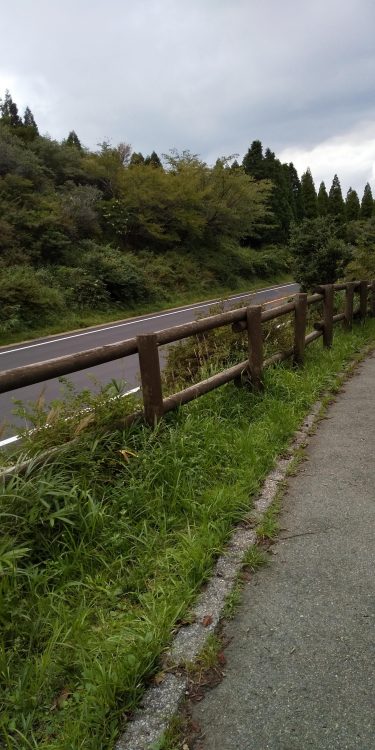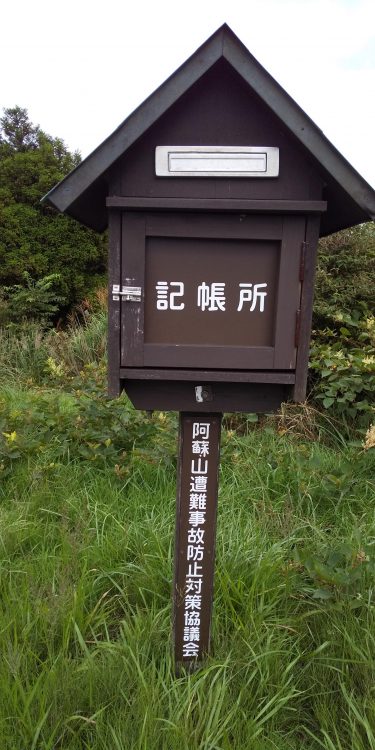 In 10 min walk or so, you will see the next sign.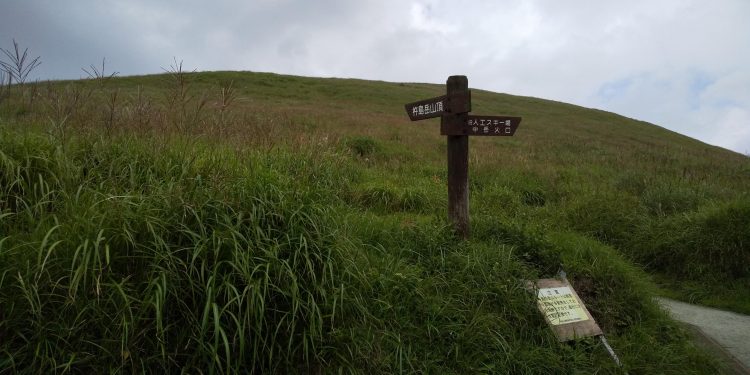 To climb up Mt. Kishima, you would take a left turn, but you can go straight if you just want to see Nakadake crater.
It is a quiet peaceful trail.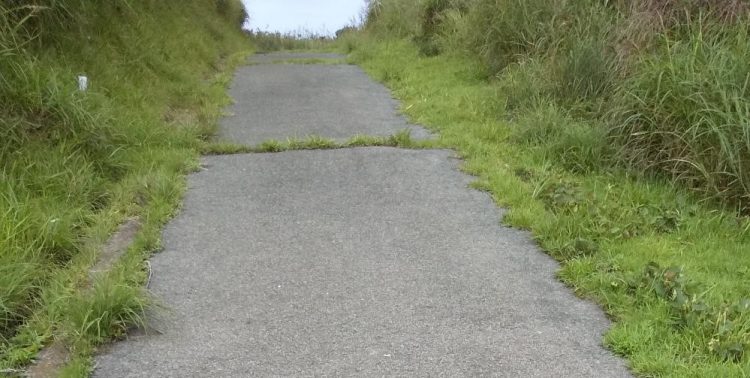 As I was walking alone, I scared a doe (a deer a female deer ♪)…She was so quick that I couldn't take a photo.
Anyway, it was a nice surprise:)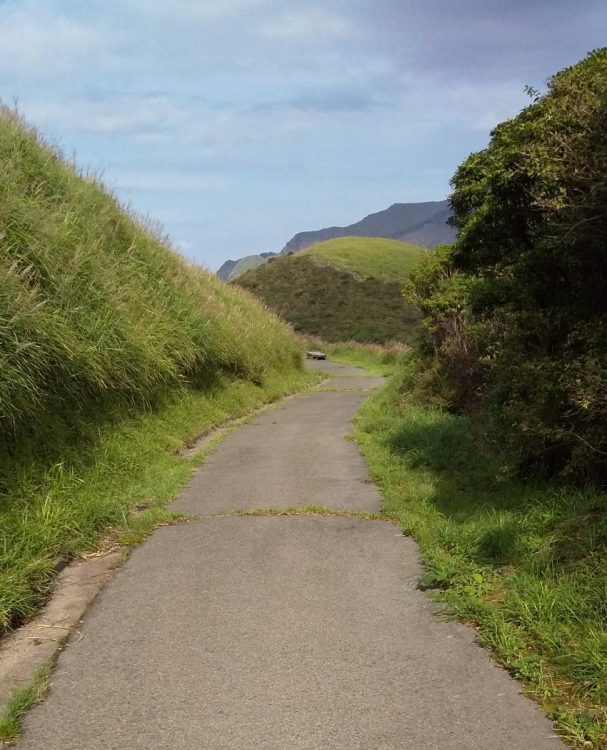 After a while, all the sudeen you will have an open view.
There are a couple benches as you can take a break.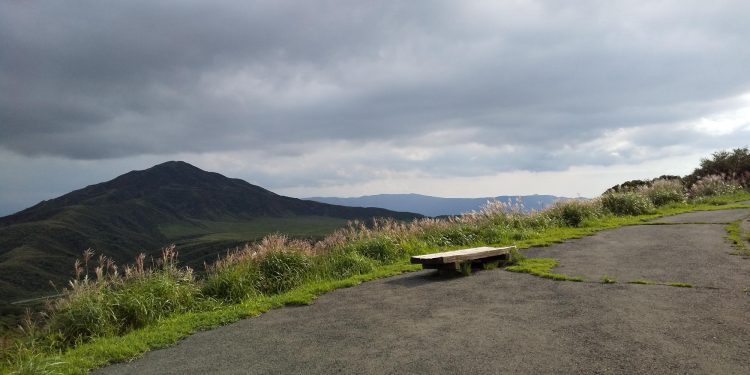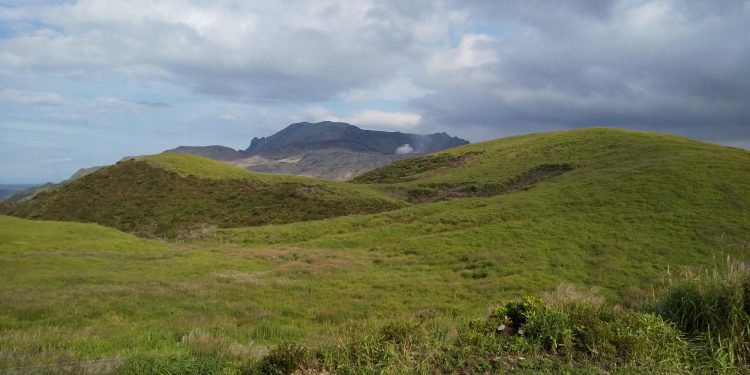 The crater is still kind a far away. You can just follow the trail more.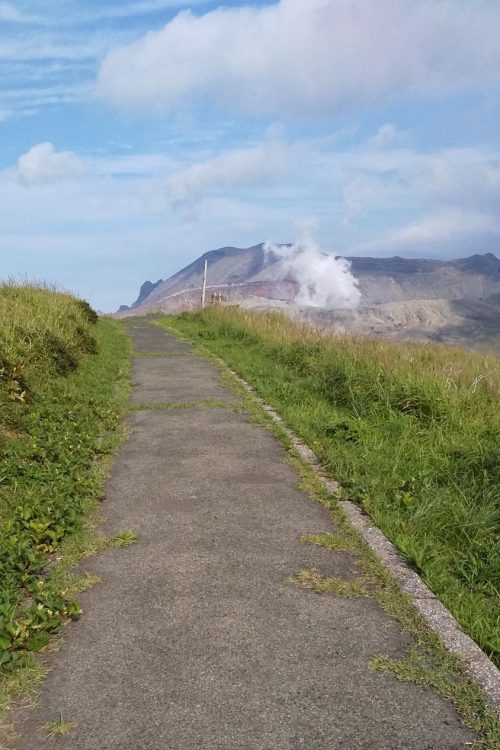 After going up a hill a little bit, you should be amazed by a very magnificent dynamic view !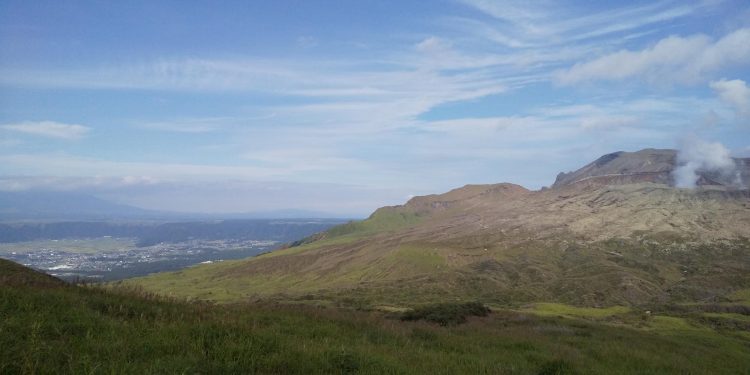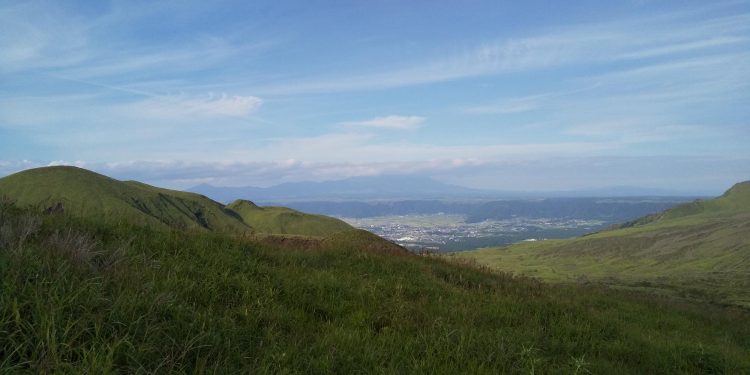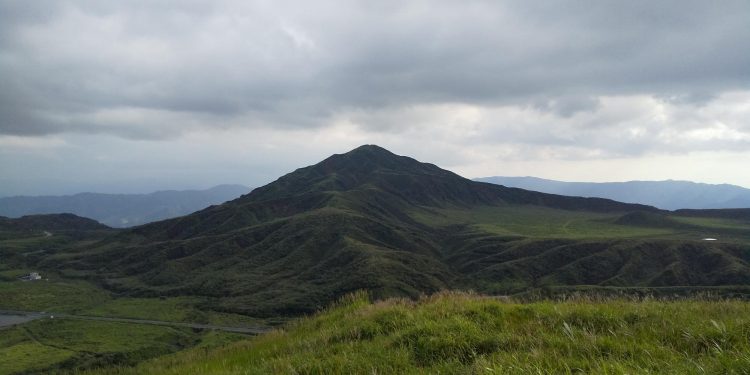 If you are satisfied with the great view, you can just go straight and follow the map 杵島岳トレッキングルート20190516, then you can go back where you started.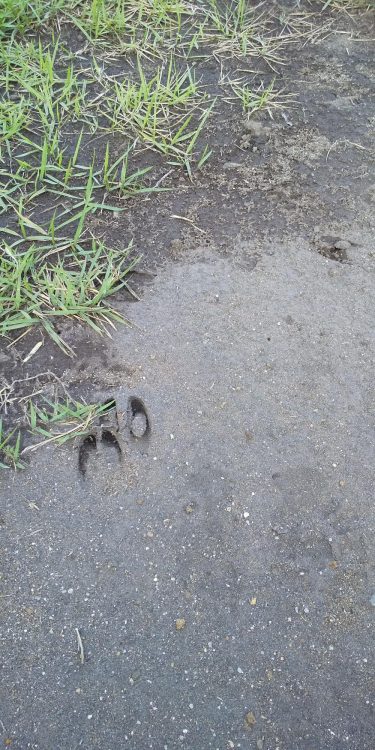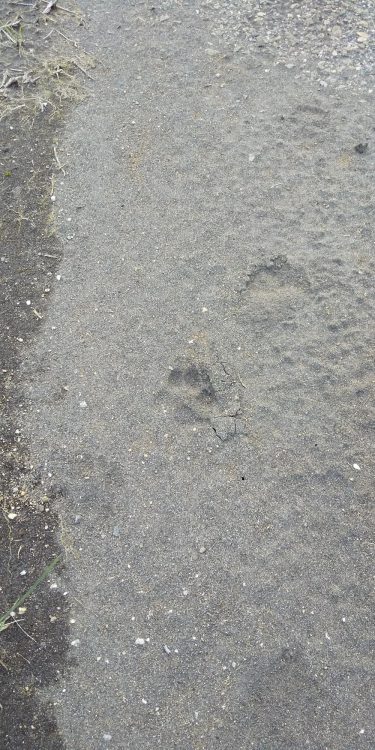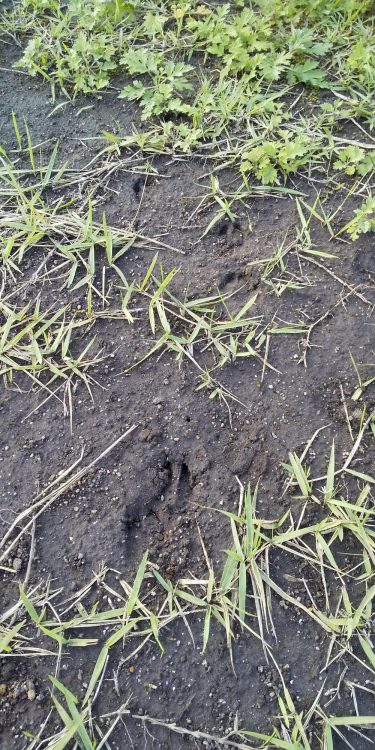 I enjoyed finding all the different kind of animal footprints, deer, wild boar, raccoon dog? or ferret? or it could be a fox.

A good thing to walk in the mountains in Kyushu, we don't have wild bear!
I felt quite safe there:)
It takes about one hour to go around this trail.
It is always nice to walk in nature, I can recommend this for family trip as well.
I guarantee you will enjoy the hike with a great view!!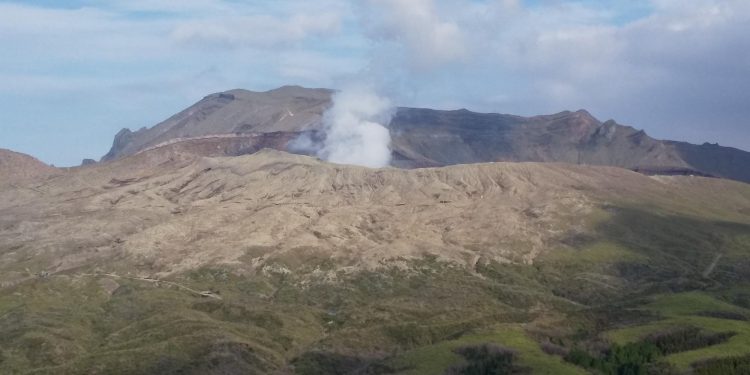 If you have a moment before you drive up to Kusasenri, please drop by Michi no Eki Aso.
We have so many different lunch boxes, or handy snacks you can take with you.
We are looking forward to seeing you someday in Aso!
Kana