Hello everyone!
It has been nice in Aso, and we are enjoying Sakura for a long time this year:)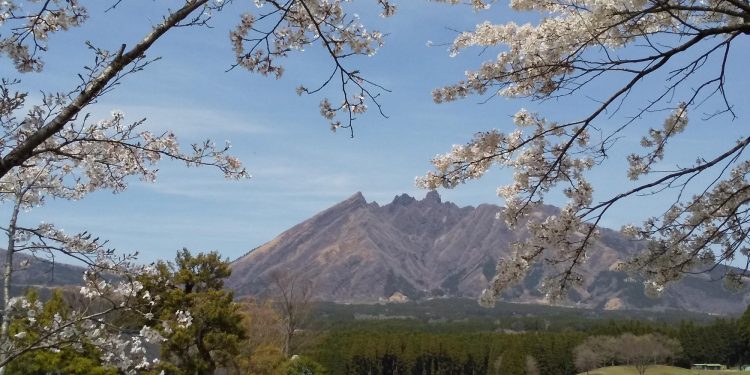 At Oguni town, which is located at the northern part of Aso area, you can see thousands of carp streamers are flying over a river now.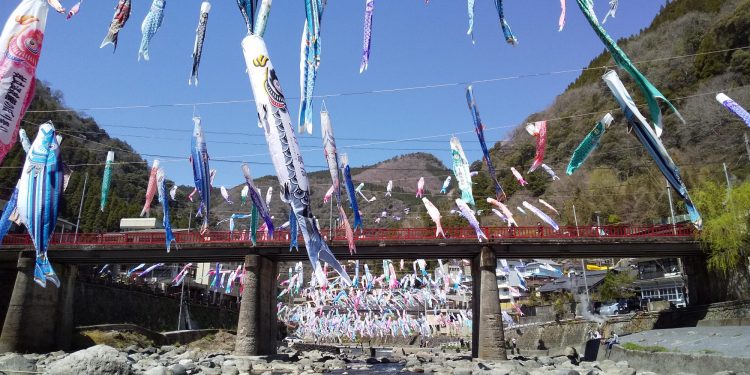 This carp streamer festival is held every year from Apr.1st till May 5th at Tsuetate onsen.
Flying the carp-shaped streamers for celebrating the birth of baby boy is Japanese tradition.
May 5th was the day to celebrate and pray for the growth and health of boys, now it became the children's day.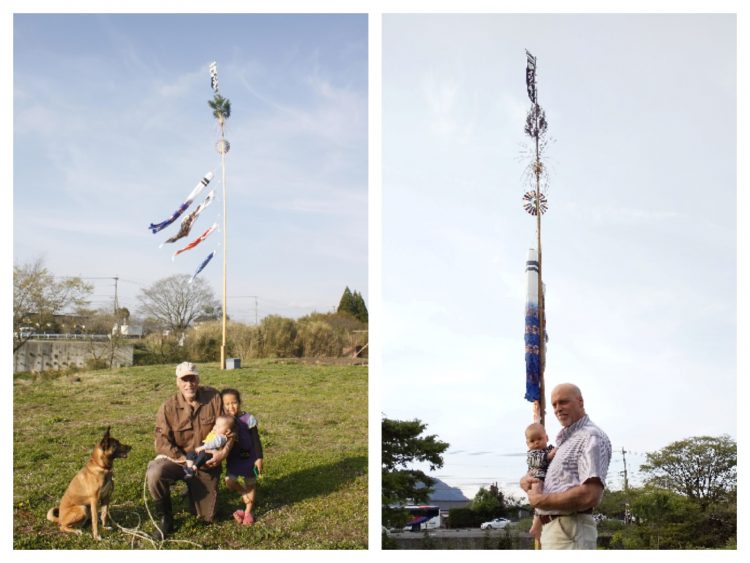 These are the photos when we flew the carp-shaped streamers for our baby boys.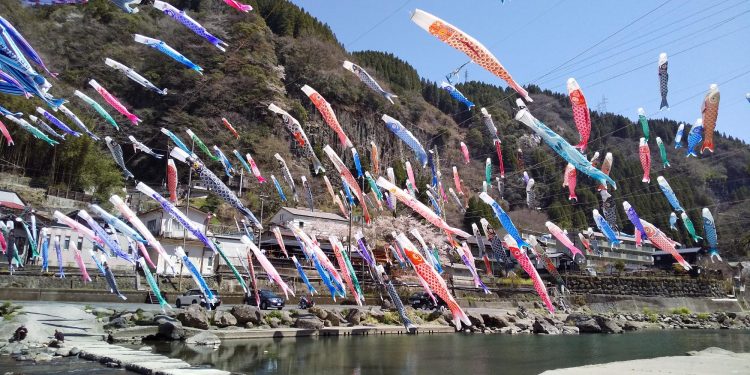 Tusetate onsen is one of my favorite places in Aso area. It is an old hot spring town, I love to see the old onsen hotels which look like hanging on the cliff.
Actually, they had a bad flood 2 years ago, and many onsen hotels got damaged☹
I hope a lot of tourists come to see this carp streamer festival. It should help their recovering!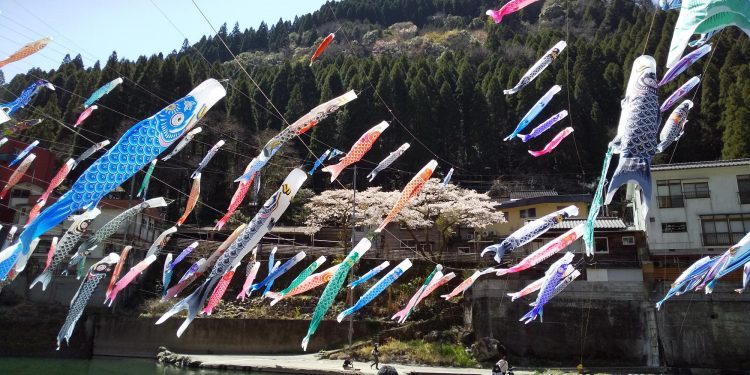 The direct translation of Tsuetate is Cane/Standing. There is a cute story about Tsuetate hot springs.
"An old man visited this hot spring,he had a cane when he came.  He enjoyed hot springs, and he left his cane at the door."
If it is true or not, the hot springs at Tsuetate is reported that it will release a pain from nerves and muscles.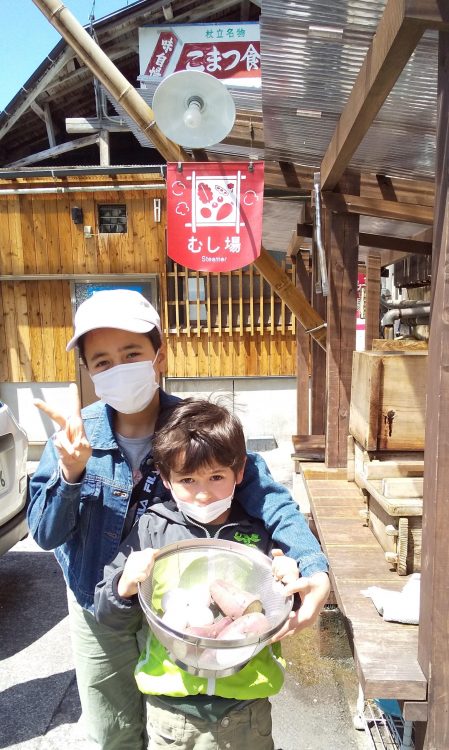 And here is something you cannot miss if you come to Tsuetate!
You will see many public steamers here, it is really neat.
The temperature of the hot springs is quite hot (75℃/167℉) at Tsuetate hot springs.
Last time we came, we couldn't try because we were not ready.
This time, I made sure to bring some food and a strainer with us!
The steam coming out from the hole was so hot!!
( That's why the filming was jumpy:D)
We put a wooden box on that hot steam and set a strainer with food inside.
The sign said that it would take about 30 mins to cook the sweet potatoes, so we left the food on the onsen steamer while we took a walk along the river side.
It was very nice day and we had fun to see all these pretty carp streamers.
And here they are !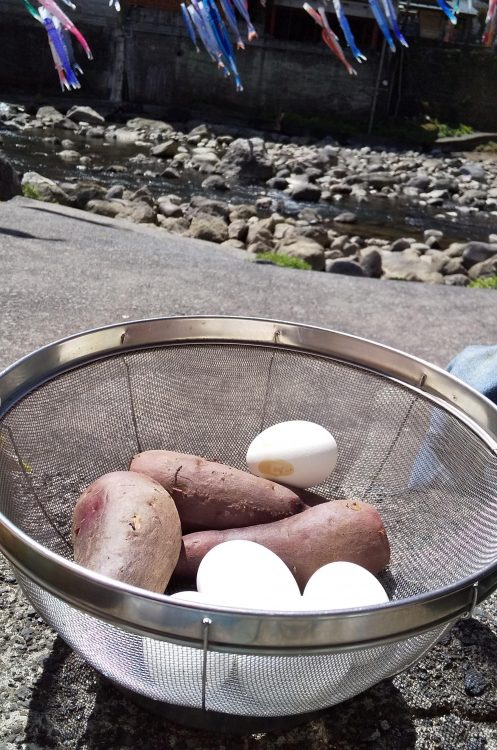 They came out great, and it was very nice to sit by the river and eat healthy food.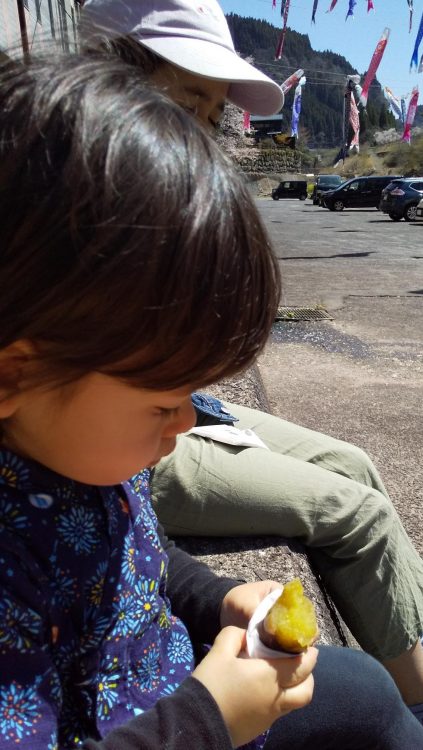 If you will visit Tsuetate onsen, don't forget to bring a strainer and food to cook.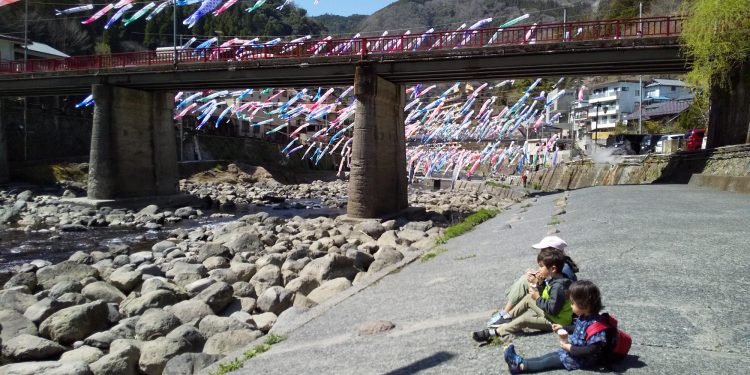 The corns from Aso area are so delicious.
I will definitely go back again to steam Aso corns in summer!
Kana