Hello everyone, how are you?
This weekend, we are supposed to have big Noyaki, controlled burning at the foot of Mt.Aso, if weather condition is right.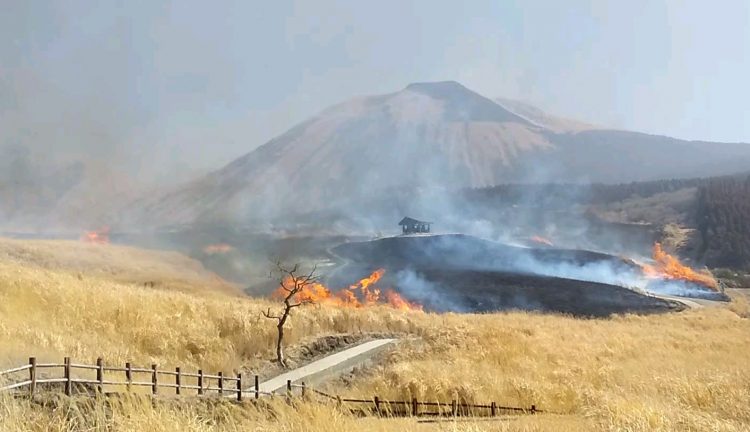 This is the sign of spring in Aso.Noyaki is a big part of culture here which had been lasting more than 1000 years at least.
After the buring, the color of the grassland will turn black once, then fresh green grass grows back in a couple weeks. It is amazing. I love to see happy butterflies at the grassland in spring!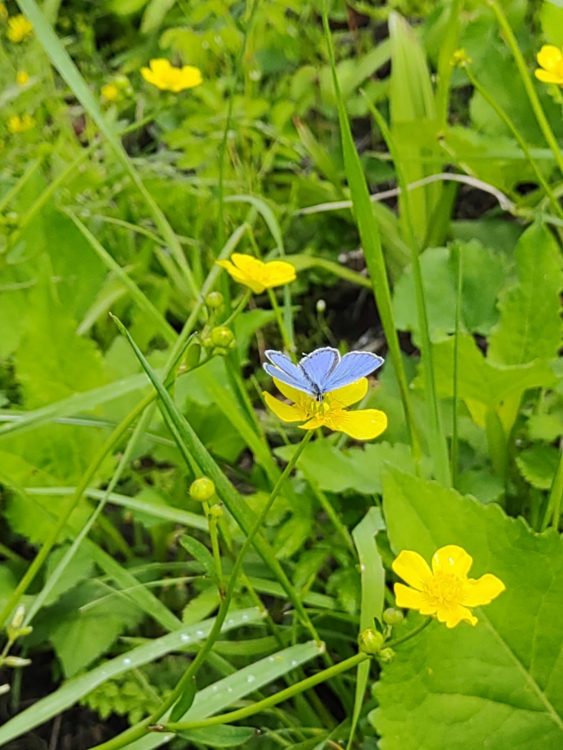 Even if you don't have a car, you can see or feel grassland closer at Kusasenri.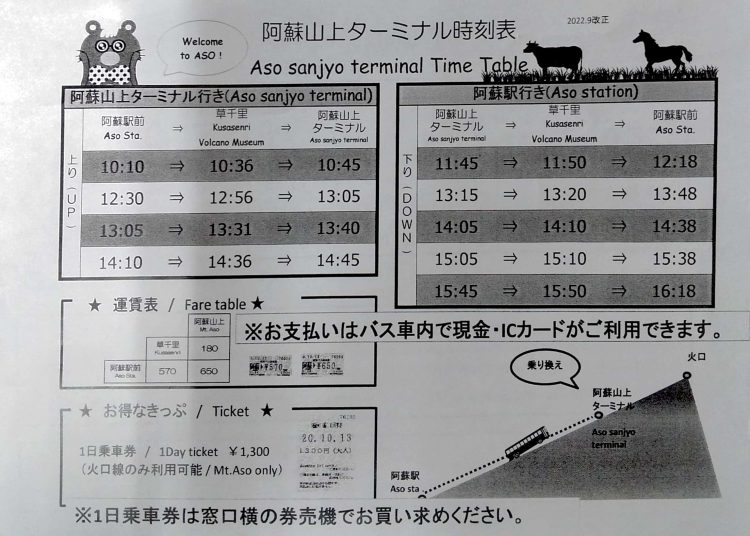 There is a bus service from JR Aso station to Kusasenri, you can see the vast grassland and also the grazing cows, and interesting landscape on the way from bus window.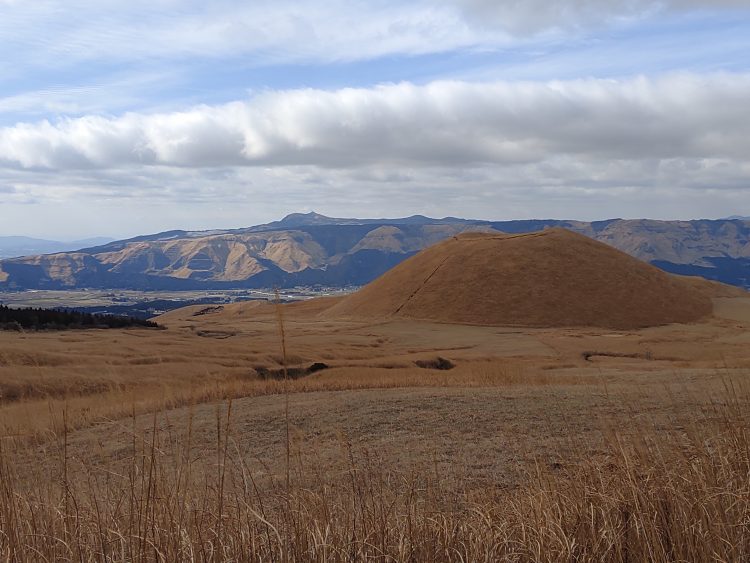 (komezuka/ winter,before burning)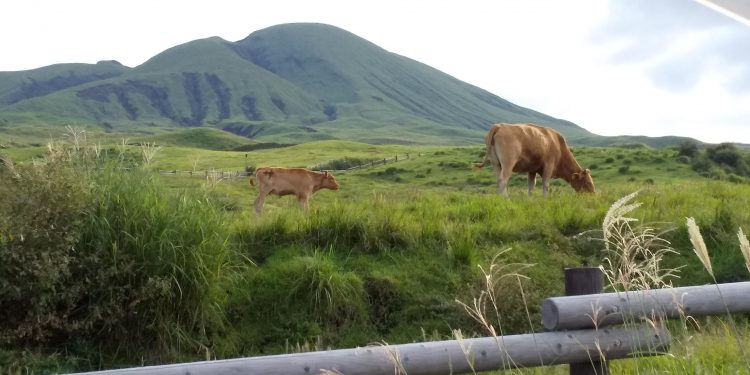 ( cow and calf /summer)
Once you arrive at Kusasenri, you can walk a big circle of grassland which is also an old crater erupted 30000 years ago.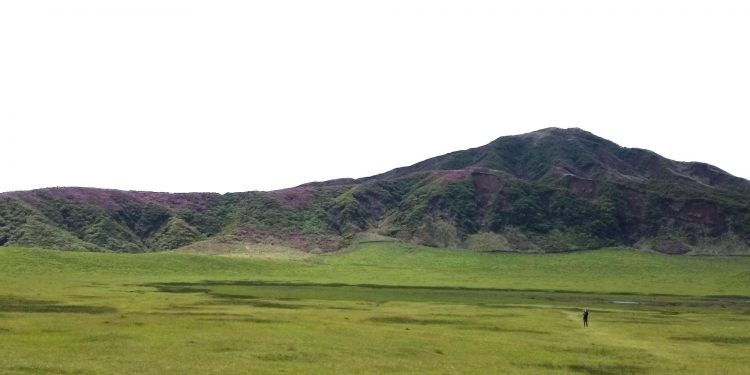 (Kusasenri/Early summer)
If you buy one day ticket (1300 JPY/person) at Sanko bus office by JR Aso station, you can get on and off the bus at any bus stops of this route freely.
If you have time, you can go to the final stop, Aso Sanjo terminal.
This place is about 1 km away from the crater. As the eruption warning level of Aso is 2 right now (Feb.23,2022), it is the farthest place you can go.
The view is better from Kusasenri, but the smoke is a lot closer at Aso Sanjo terminal. In spite of the amount of smoke, there is no smell if the wind is not blowing toward us, it is interesting.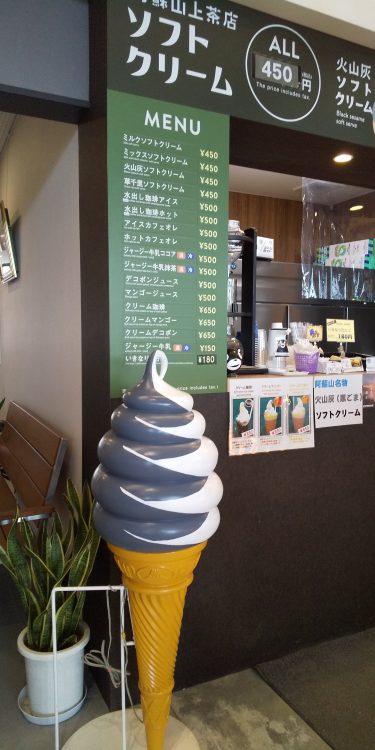 My recommendation is Aso volcanic ashes  (Kazanbai) soft serve!
It is very healthy to eat volcanic ashes, did you know that?
Yikes! ….Joking 😀 😀
Actually, it is black sesame flavor, and it is healthy.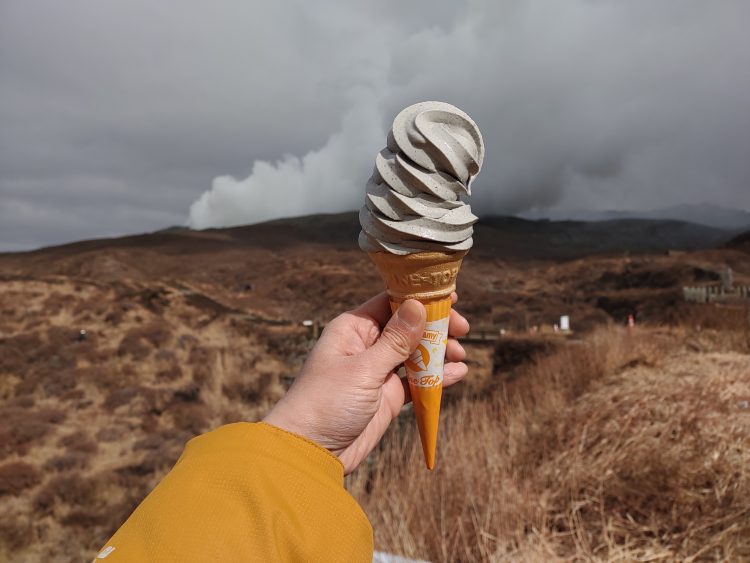 You should try to take a neat photo of gray colored soft serve with the smoke of active volcano!
Spring is just around the corner!
Please come to enjoy nature and culture of Aso.
Kana