Hello from Michi no Eki Aso! It is becoming real Aso now! I mean, it has been very cold recently. 
How can you get warm in Aso? Hot springs? Yeah, it is a good idea for relaxing, but last week I chose a hard way to get warm, yeah, trekking to a mountain! lol 
I can do it anytime, because I am living in this beautiful Aso. Someone who is a trekking enthusiast, jealous of me right? haha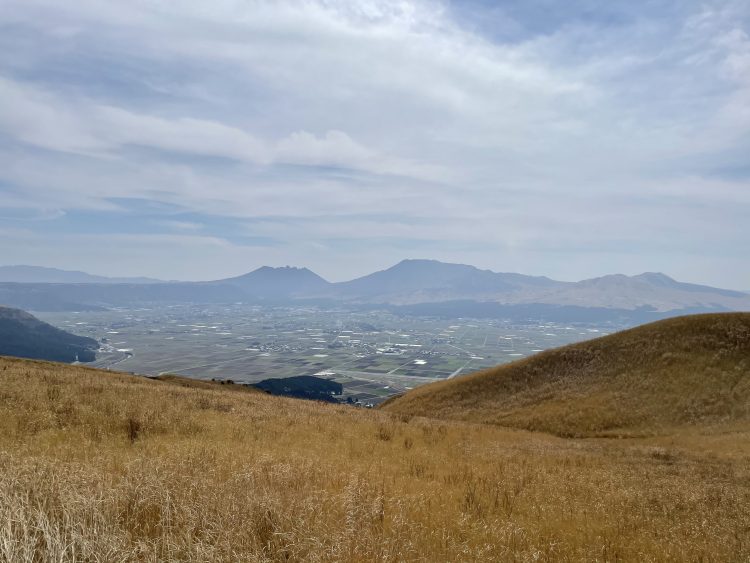 Actually, I am a beginner to trekking any mountains and I do not have any physical confidence, I am not strong enough to do it! haha 
(Hey, Kirara, shut your mouth up! Just try it! )
My "diet" god came down to make me do some exercise! lol He is too strict to me 🙂 Sometimes I skip his advices so I still have a happy body like a bear 🐻haha
Anyway, I decided to climb Mt.Kishima. Many trekking magazines or locals say Mt. Kishima is easy to climb and I believed so until I went trekking there…lol 
This is the main view of Mt.Aso and Mt.Kishima is located in the picture below ↓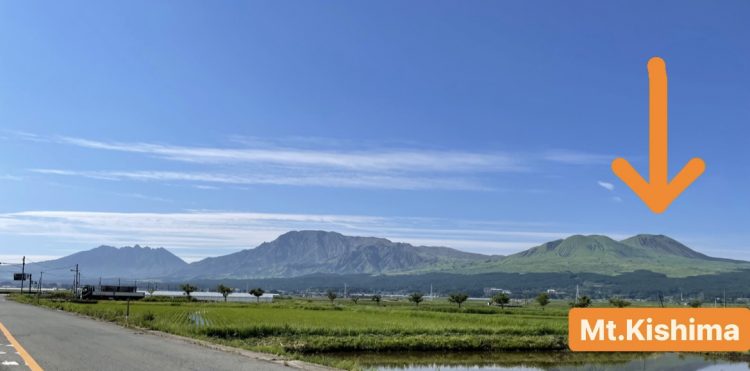 Let's start from the parking lot at the Aso volcano museum. I was ready and excited about going to the top of Mt.Kishima! Horses are cheering me up! (You can see them while driving up to the Aso volcano museum)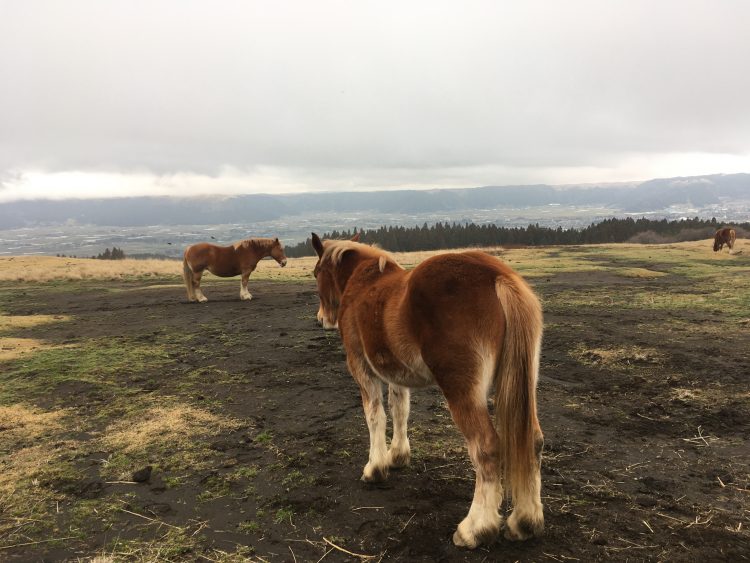 On the way to the top, there are a lot of Japanese silver grasses on the mountains. It is called "Susuki" in Japanese.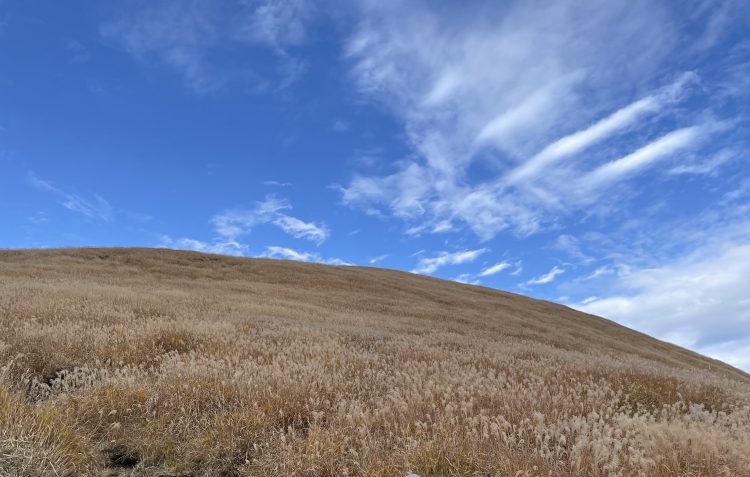 I took the pictures below, on the left, it was in September, and on the right it is now. When you touch it now, it is softer.
Because of the wind, they are enjoying the dance and you can see the beautiful golden landscape in autumn in Aso.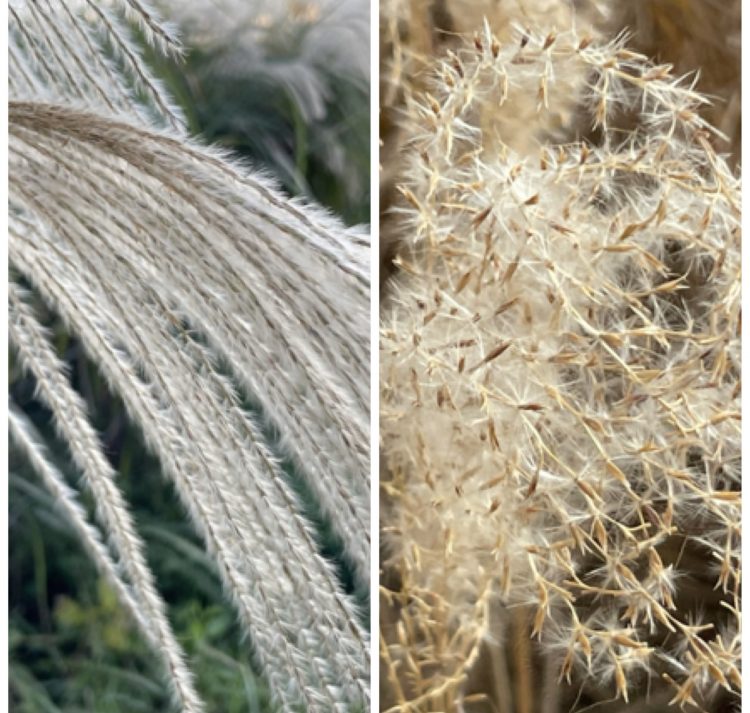 As I told you, Trekking would be hard for me, yes, it was. There are 800 stairs until reaching the top. It was tough, although, Luckily, I was together with a kind trekking guide and buddy. They gave me short breaks sometimes and I could see different faces of Mt.Aso.
You can see the wall of the outer rim of Mt.Aso. They are like in an amine world. (If you know a Japanese anime called "Shingeki no Kyojin" (Attack on Titan in English))
This picture, you can see the starting point, and Kusasenri.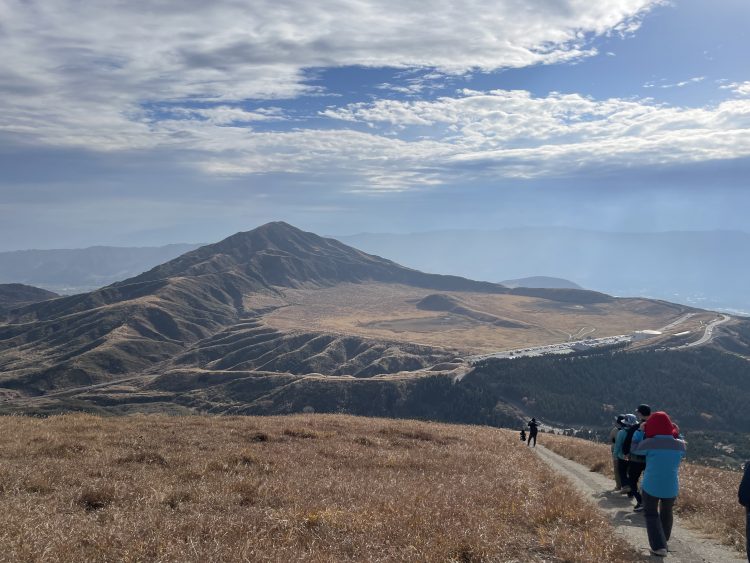 When I reached the top, I felt so happy. You may know the active volcano in Aso just erupted last month and you can see volcanic ash around the crater. They are like snow covering the mountains, but unfortunately, they are not. We hope to be closer to the crater soon and feel the breath of Aso more and more.( Now, we are not allowed to enter within 2km from the crater )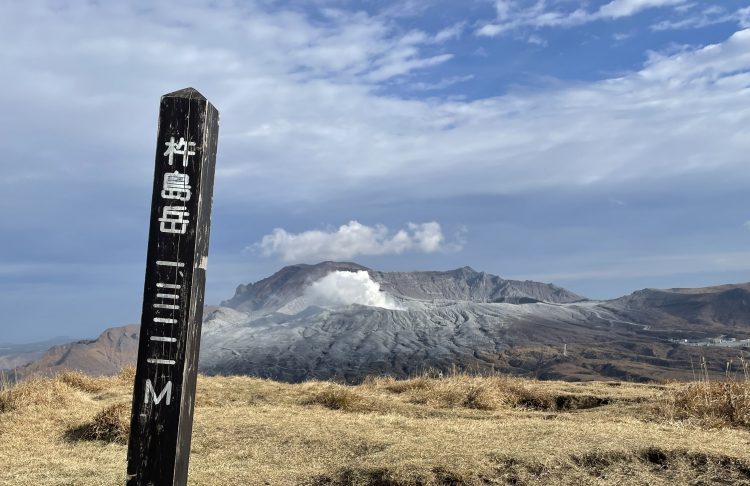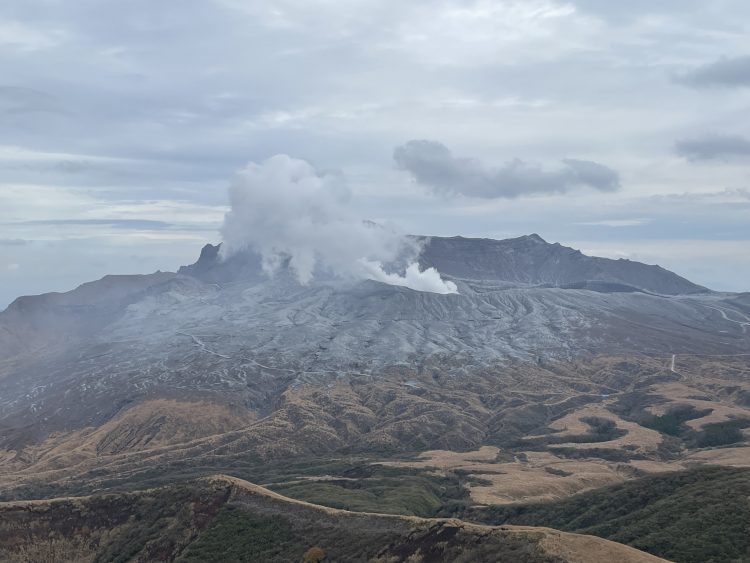 It was a nice experience for me and I already decided my next target will be Mt.Eboshi which is near Kusasenri. I will share with you when I get to the top of Mt.Eboshi and other mountains in Aso too! 
(※Depending on the weather and the wind, you will not allowed to climb the mountains for your safety)
Kirara