Hello!  How are you doing?
It is already Jan.12th, but I still have news about new year event in Japan!
At first, please take a look at this photo.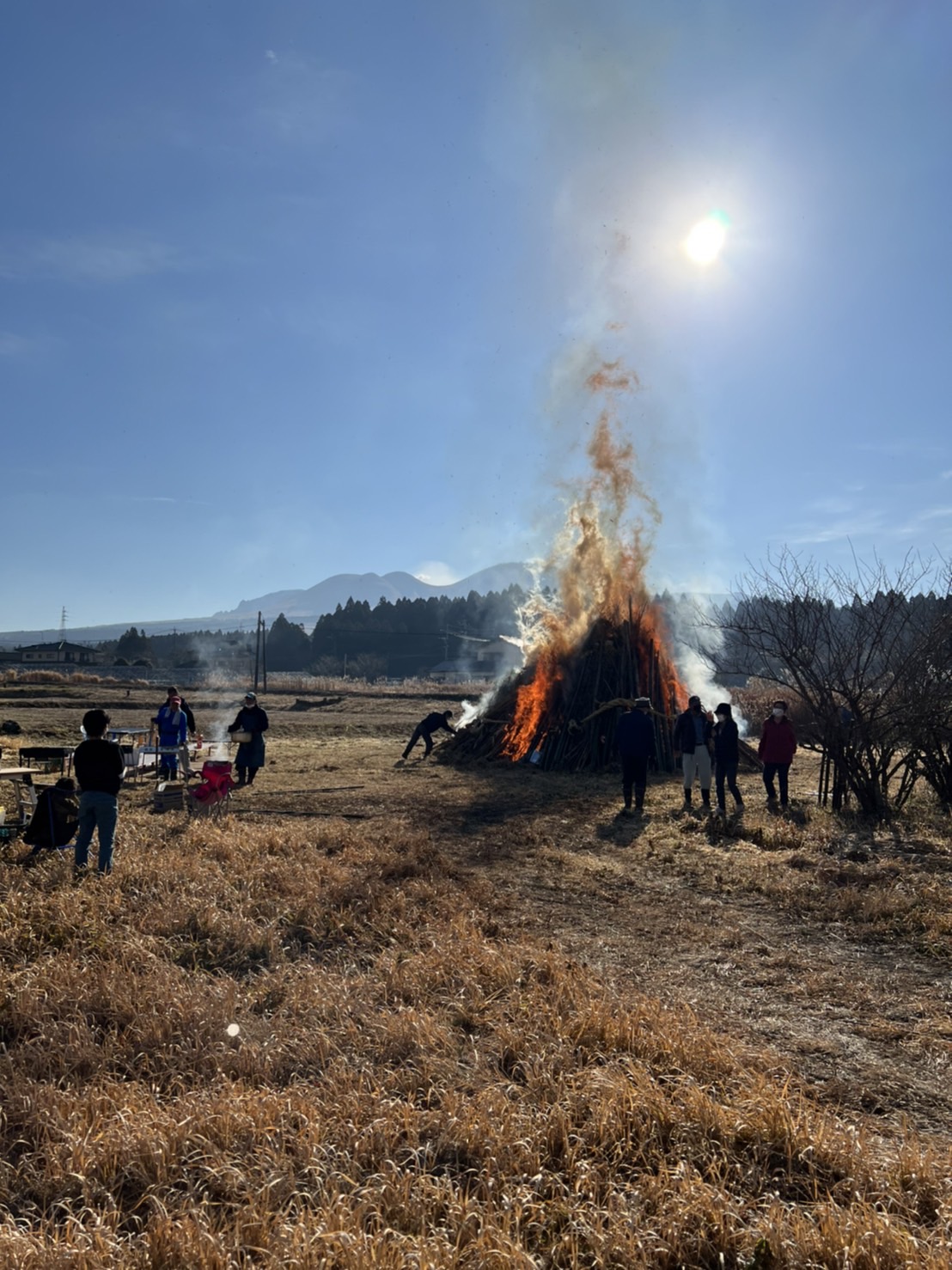 Oh,no! House is on fire?!
Nope! 😀
If you visit Aso in January, you will see these fires are going on everywhere.
It is called Dondoya.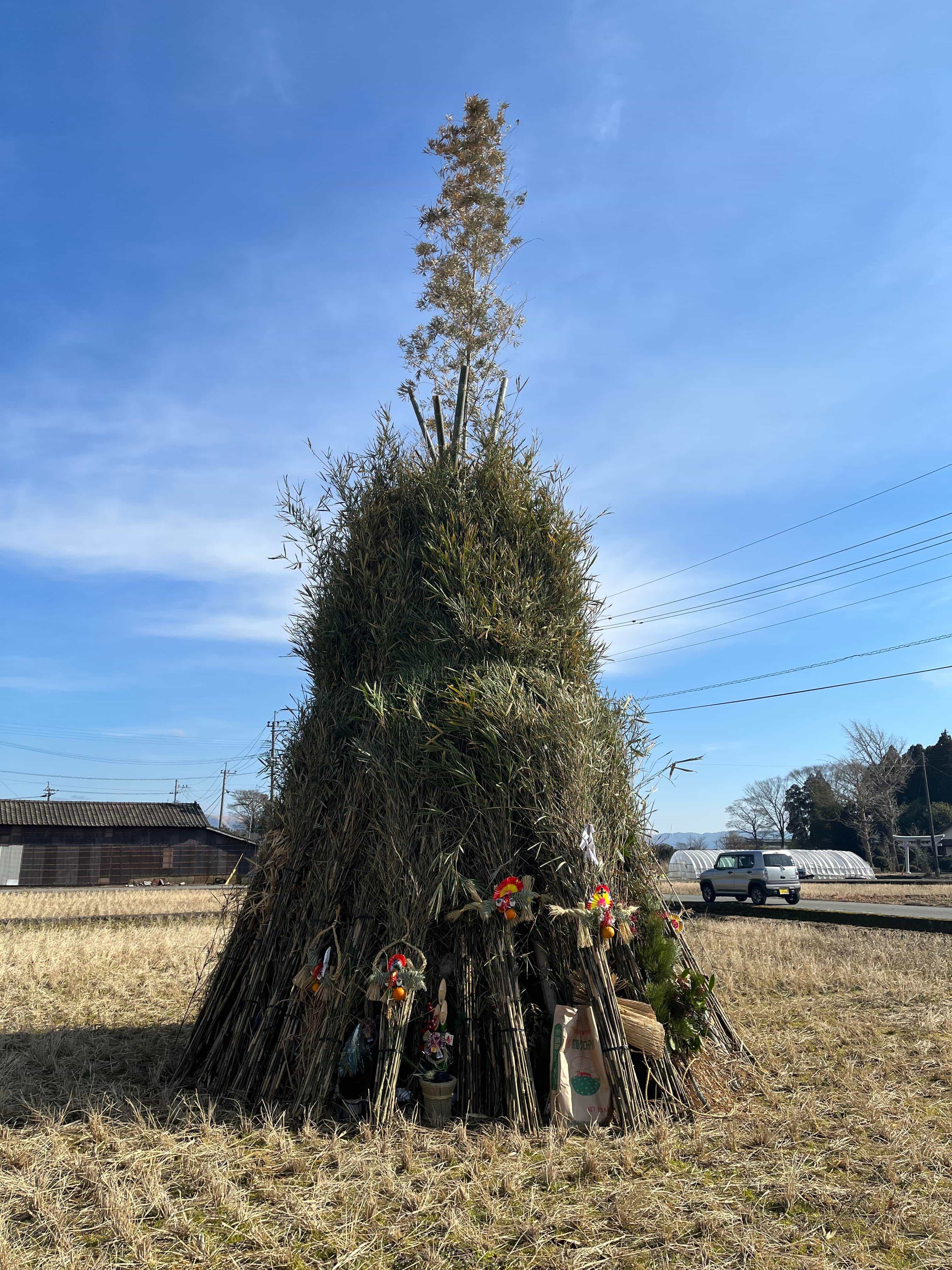 They make this pyramid with a lot of green bamboo around so when they put fire, it makes a lot of noises, and it is so loud.
Pop,pop,pop,pop!!
You can hear this noise in distance. My dog always barks 😀 If you don't know what's going on, you might be attempted to call 911, but don't worry, this noise at this season is from Dondoya.
Dondoya is the particular name used at Kumamoto, but this new year event is held all over Japan. I am not from Aso, what I know from my childhood was held at shrines and I had never seen the locals do this everywhere ( I mean everywhere…)until I came to Aso.


It is my personal opinion, but I think the local people in Aso, they love fire 😀
They burn the big field to keep the grass healthy and green every spring.( Noyaki) 
Dondoya fire must be a baby fire for them….
 
Dondoya is also called as "Oni bi taki" in Aso area.
The "pop" sounds send Oni=demon/bad spirit/unluck away, no wonder they throw more green, fresh bamboo to make it louder! …because they have good reason, it is fun ,isn't it 😀
My boys enjoyed one Dondoya with the local near their kindergarten last week.
Then, in this weekend, we had another one with our locals.
We joined local community group when we started living in Aso 9 years ago. Joining them was a big help when we had a terrible earthquake 6 years ago. Old folks are always so nice to my children. My kids are learning a lot from them.
Anyway, Dondoya is always really nice time for us to get together with all different ages. Some old lady is looking forward to it for a year!
If you get the heat or even ashes from Dondoya, you won't catch cold and will stay healthy for this new year. (That's what Dondoya is for)

If it is true or not,,,,I believe this fun moment, eating together, chatting together, laughing together, even singing together ( they brought portable Karaoke in afternoon!) is really healthy for everybody.
We couldn't do this last year because the covid-19, but we had so much fun this year.
Our locals' Dondoya is held by the railroad track, every time train passes, kids wave to it.
We can see Mt.Aso behind the big fire.
We burn the new year decoration at Dondoya, we don't put these in normal trash.
They were warming up Japanese Sake in bamboo. I couldn't go closer, it was very hot! Seriously…He seemed fine,though….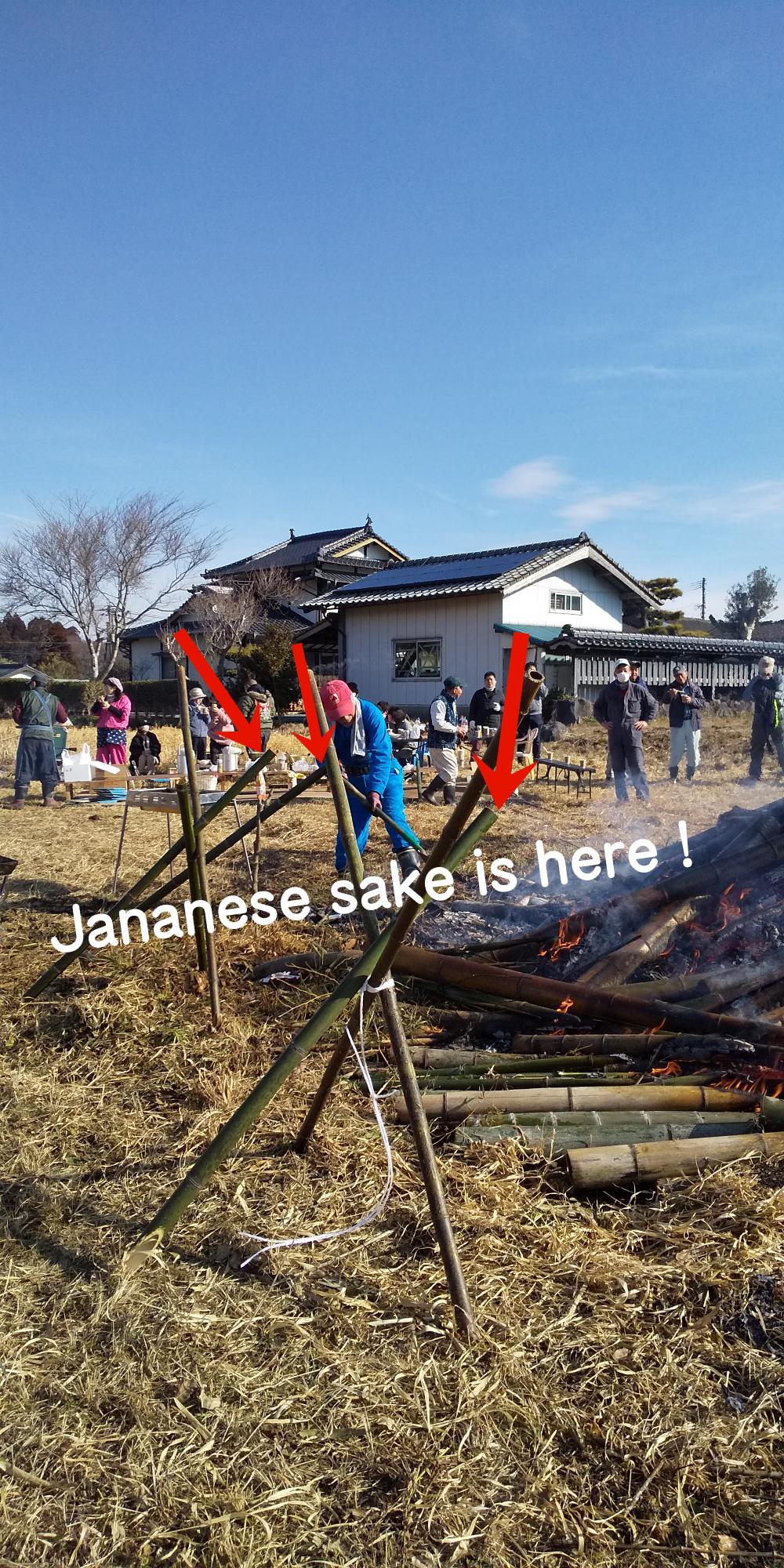 Our neighbors served the hot Japanese Sake in the handmade bamboo cup to my husband:D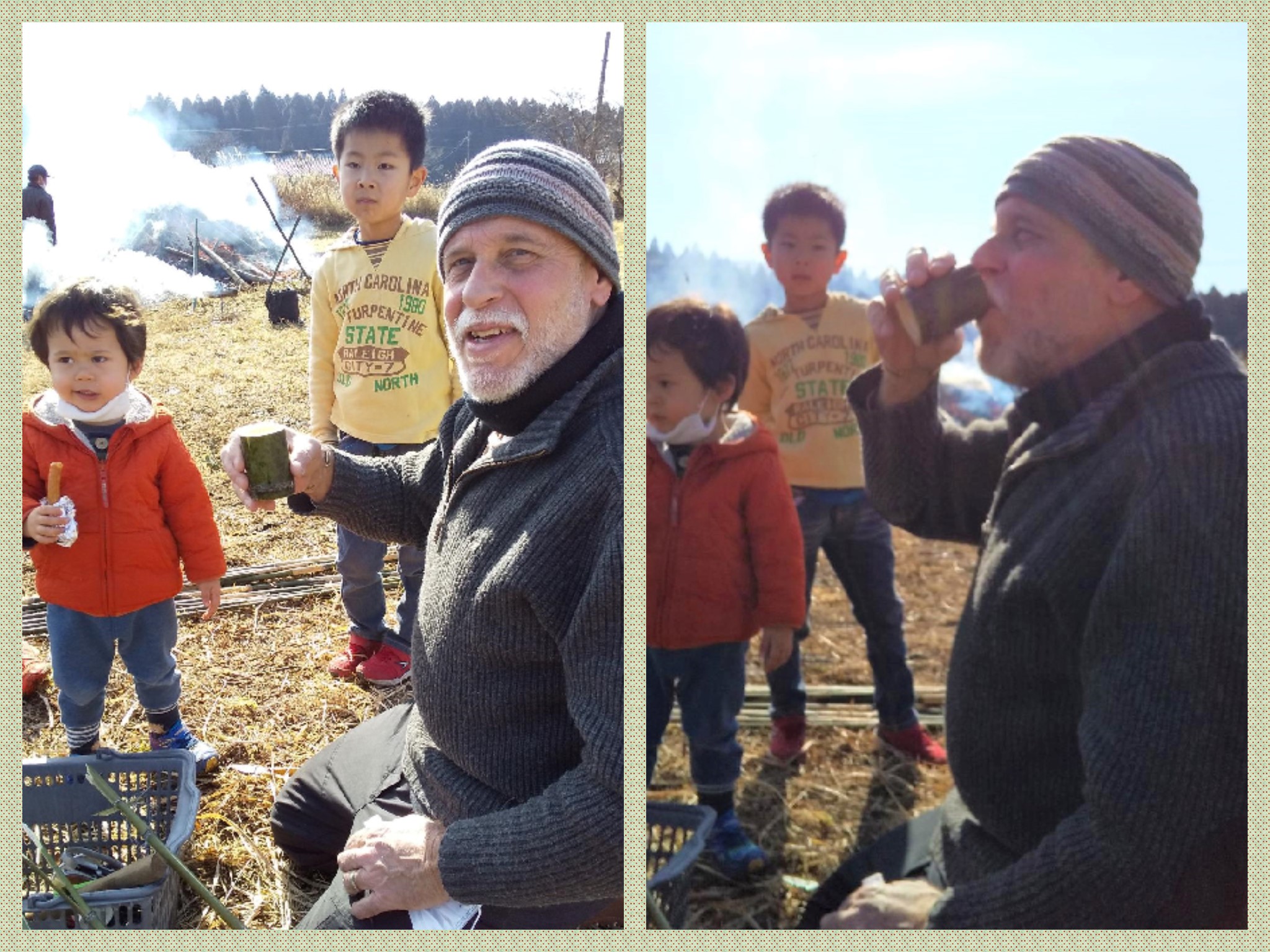 My little guy was trying to make a cup from bamboo?!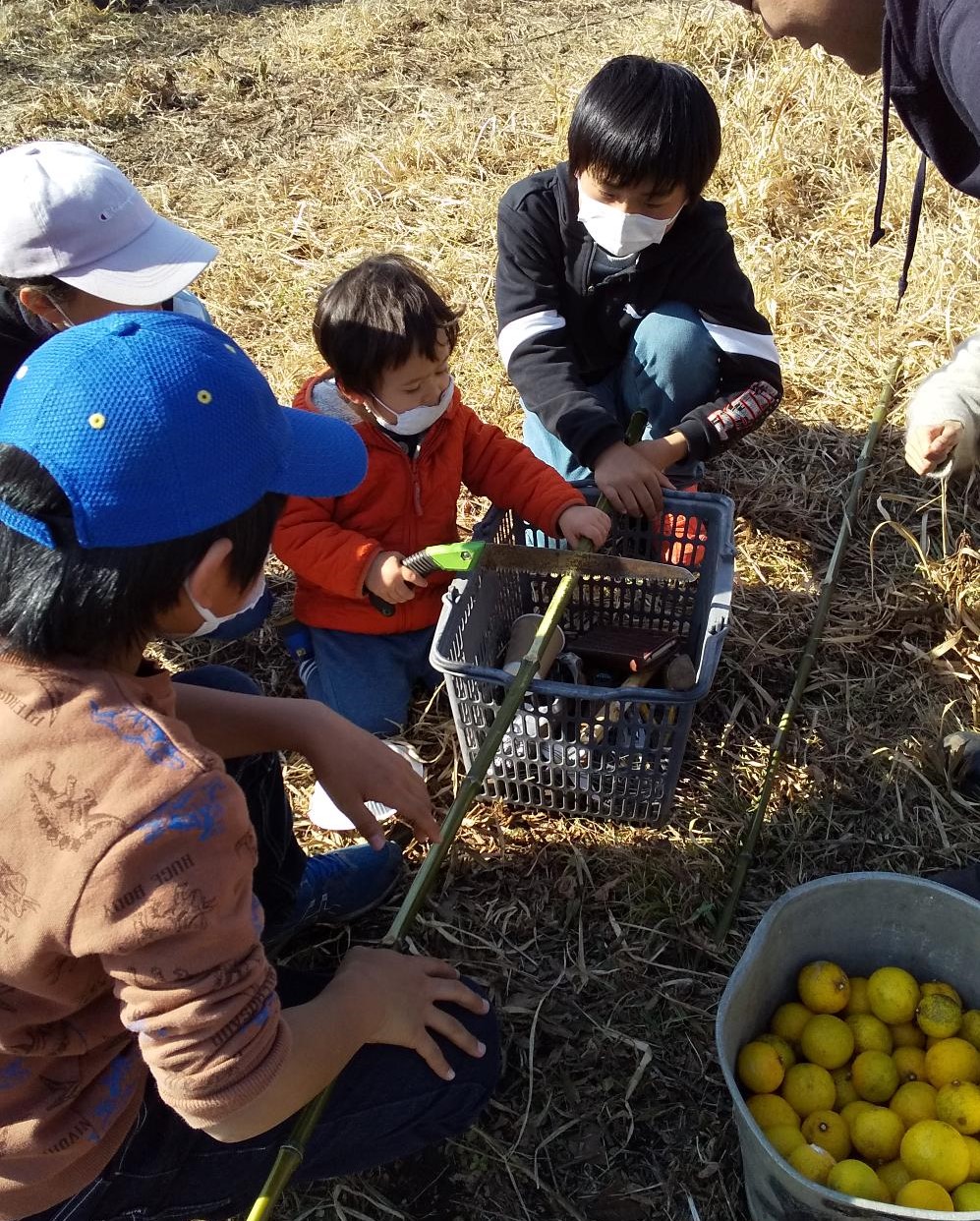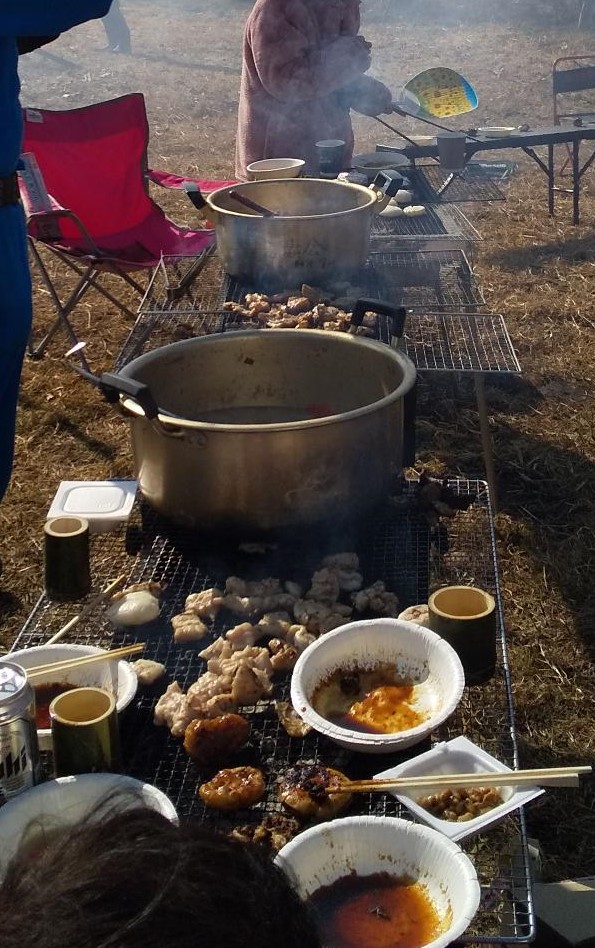 Wishing happy new year for you all!
If you have a chance to visit Aso in January, you can join our Dondoya!
Winter BBQ in Aso is very warm,people are also warm by big fire 😀
Kana