Hello everyone! We hope you are enjoying this beautiful season.
Mt. Aso had an eruption last week, but it seems to feel better after that big burp  😀
We can see only white steam is coming out from the crater since the day eruption had occurred.

Still the off-limit area is 2 km from the crater, but you are allowed to see the active volcano from Kusasenri which is 3 km away from the crater.
Well, today, I would like to track the recovering history at Tateno, Minami-Aso village area from Kumamoto earthquake in 2016.
At Tateno area is a deep valley as the water which was sitting at Aso caldera flew out from this point long long time ago. And in April 2016, a huge land slide caused by the earthquake washed off Route 57, JR Hohi line, and even "Aso Ohashi" the big bridge.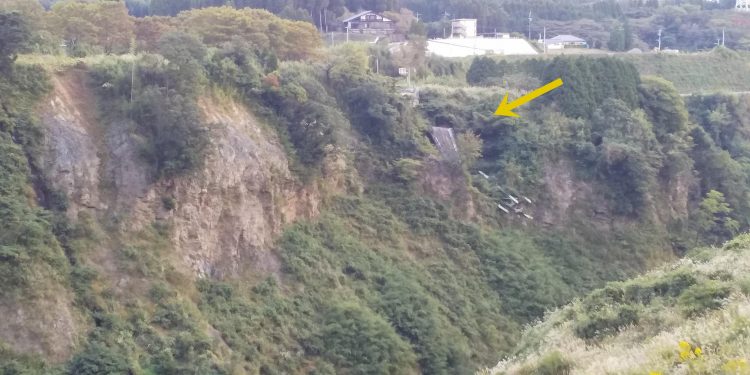 Last year, in August 2020, Route 57 finished the reconstruction, and also JR train restarted the service.
And the construction of " Shin Aso Ohashi" was completed in March,2021 as well. It became a lot easier for us and tourists to come and go around Aso area.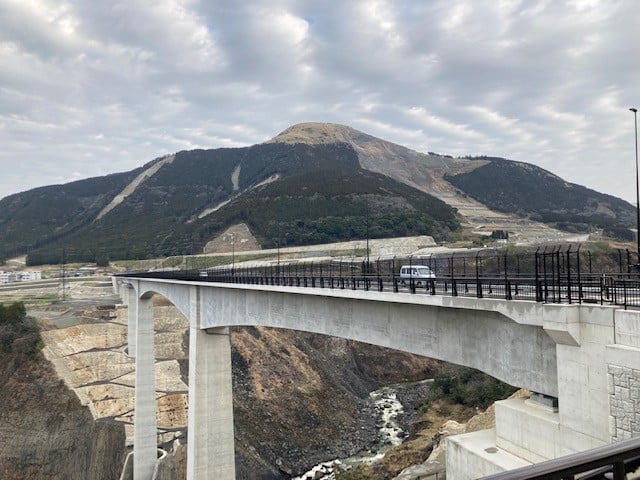 Do you like "One Piece" which is worldwide popular Japanese manga?
Kumamoto pref. led a project to build the statue of each character of "One Piece" as the symbol of recovering at the area got a big damage from the earthquake. 
Tateno is also the one of those area, they chose "Robin" who is an archaeologist as her character suits for this area. You can see her at Ex-Tokai university Aso campus which is preserved as Kumamoto earthquake museum. ( You can access from the steet near Aso farm land only, please note that you cannot access from Aso Ohashi,bridge side)
And here is something I was looking forward to seeing again!
This waterfall is called "Sugarugataki" ,the meaning of Kanji is "the waterfall the numbers of deer were washed down"…..

Before the earthquake, we had a lookout where we could see the waterfall from front, but now the whole landscape had been changed, then now we see it from side.
This walking path was opened just the other day, on Oct.16th. They were still working on the new parking for this waterfall observatory. We parked at the big parking along Route 57 and it was about 5 min on foot to the waterfall.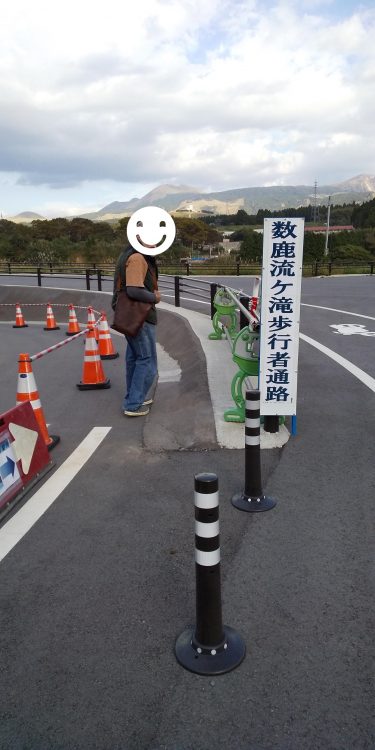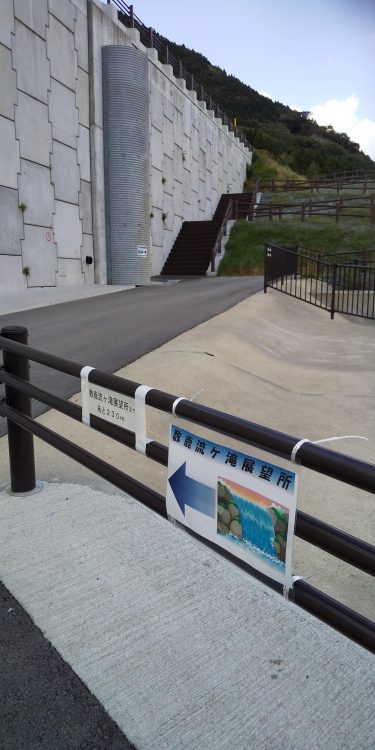 I was curious how the shape of waterfall was changed from the disaster, well, it might look shorter than before but it was still so masculine and powerful as I liked.
And you can see the other waterfall in the same time!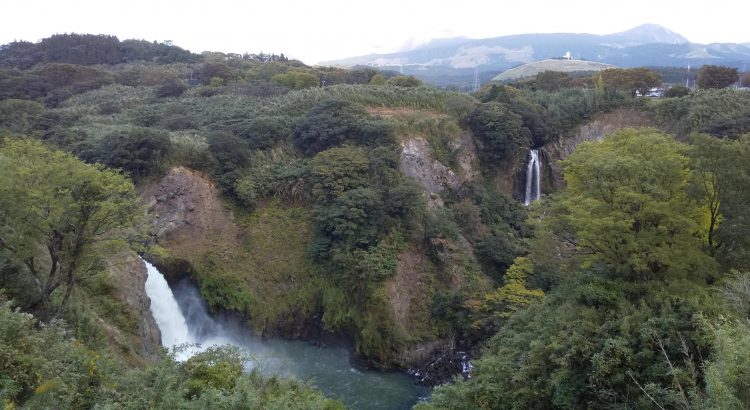 It will be prettier with autumn colors soon in Nov.
If you have a chance, feel easy to drop by "Sugarugataki " which is along Route 57 and imagine the caldera lake water was coming out through this Tateno valley in ancient times!
Kana
*+†+*――*+†+*――*+†+*――*+†+*――*+†+*――
道路情報や店舗情報など道の駅阿蘇Facebook、道の駅阿蘇ホームページでもお知らせしておりますのでご活用下さい。
道の駅阿蘇(NPO法人ASO田園空間博物館)
TEL:0967-35-5077
阿蘇市内の地図はコチラから
あかうしのあくびvol.29 ⇦最新号が出ました!
道の駅阿蘇は、9時~18時まで営業中。
「道の駅阿蘇ネットショップ」で阿蘇の特産品絶賛販売中です!
*+†+*――*+†+*――*+†+*――*+†+*――*+†+*――