Hello everybody,this is Kana from Michi no Eki Aso.
It had been raining for 10 days, but it seems better for these couple days. It is a little warm and humid.
Do you like ice cream?
I bet you do.
"I scream, you scream, we all scream, for ice cream ! 😀
I would like to share some photos I took when I visited "Aso Tennen Ice" the other day with my son.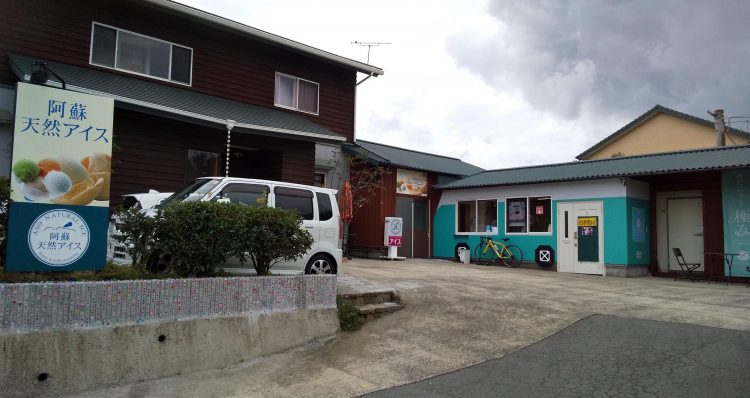 Well, I was really dying for ice cream on that day.
Just before I visited this ice cream shop, I was at Aso Ichinomiya head post office which open on Sun to send something but it was closed earlier than I thought….  It was definitely my fault, but I was not very happy about it.

At that moment, I remembered that the ice cream shop was so close from where we were!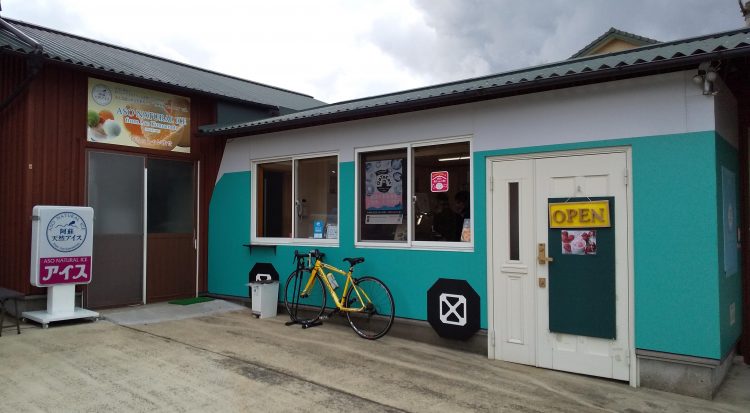 We went around the corner, then found their sign in front of a cute building. We opened the door….And yes, there was an ice cream paradise!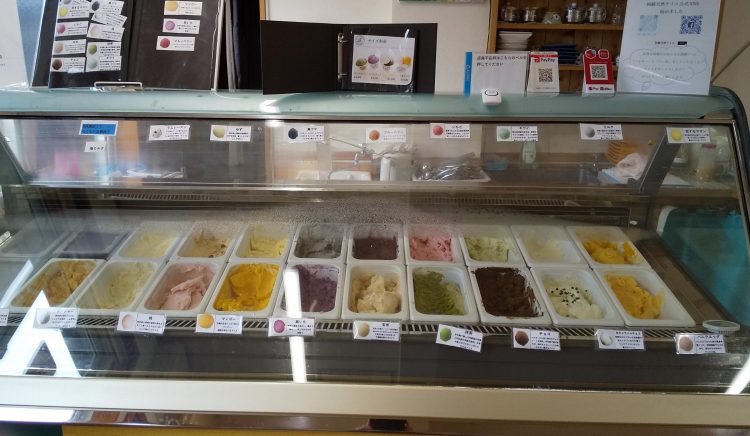 I knew their ice cream are sold at Michi No Eki Aso also, but I had never been their real shop.
Aww,so many different flavors……..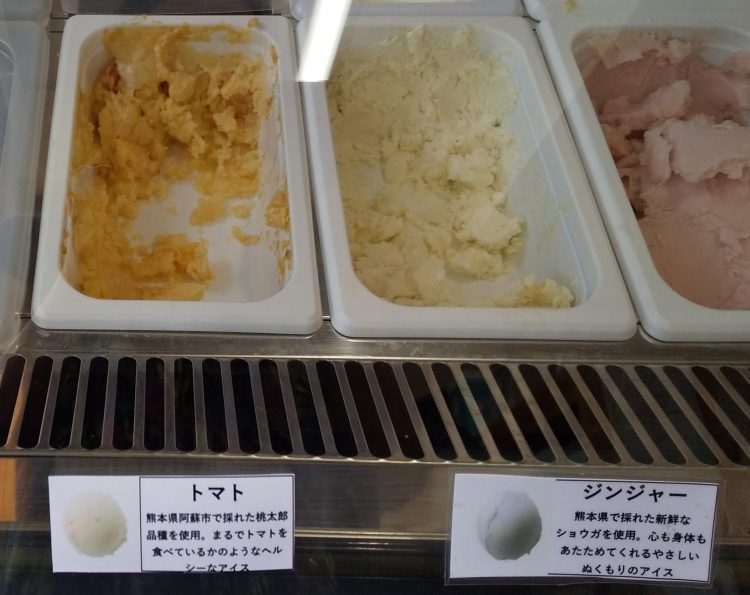 Tomato and Ginger from Aso.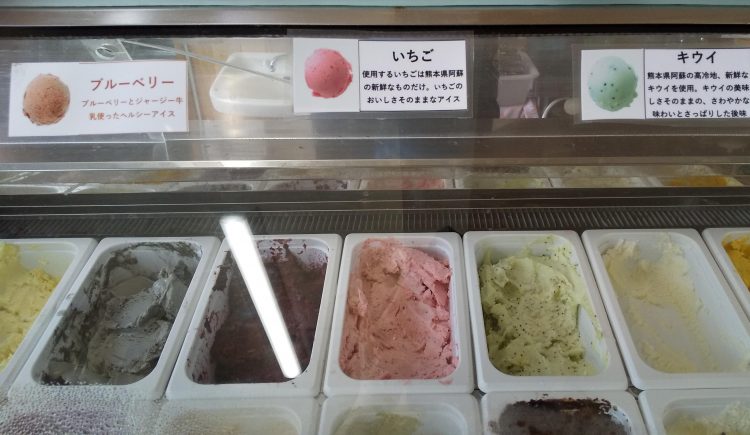 Blueberry and Strawberry and Kiwi from Aso.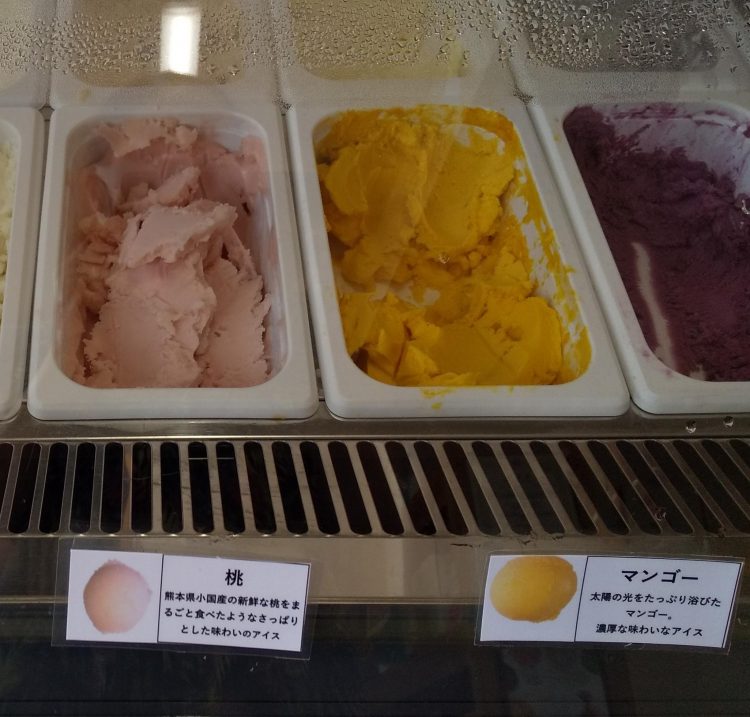 Peach and Mango.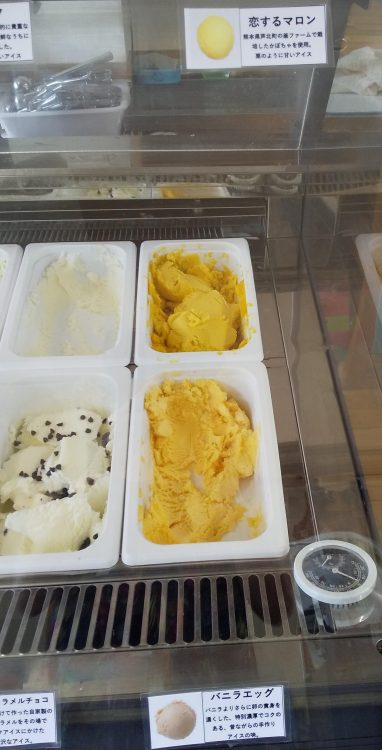 Chestnut and Vannila Egg….and more!
I couldn't decide so I asked their recommendation for this season.

I chose peach and tomato (of course, made in Aso!) and salty vanilla. My boy chose chestnut and mango and chocolate.
It came with melon:D  It looks gorgeous!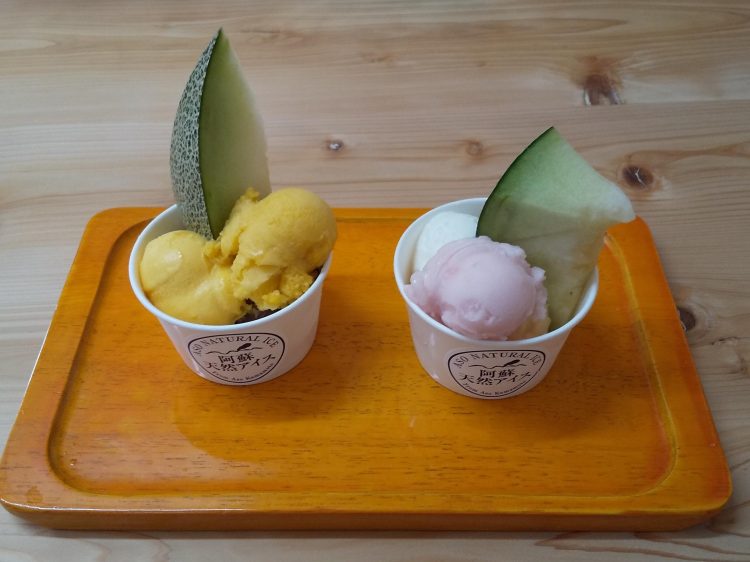 "Tennen" means "Natural".
So, "Aso Tennen Ice" means "Aso Natural Ice".
Their fruit ice cream was just like the fruit. Well, they were actually better than the real fruits!
Their ice cream made my day….It became a great date with my son:D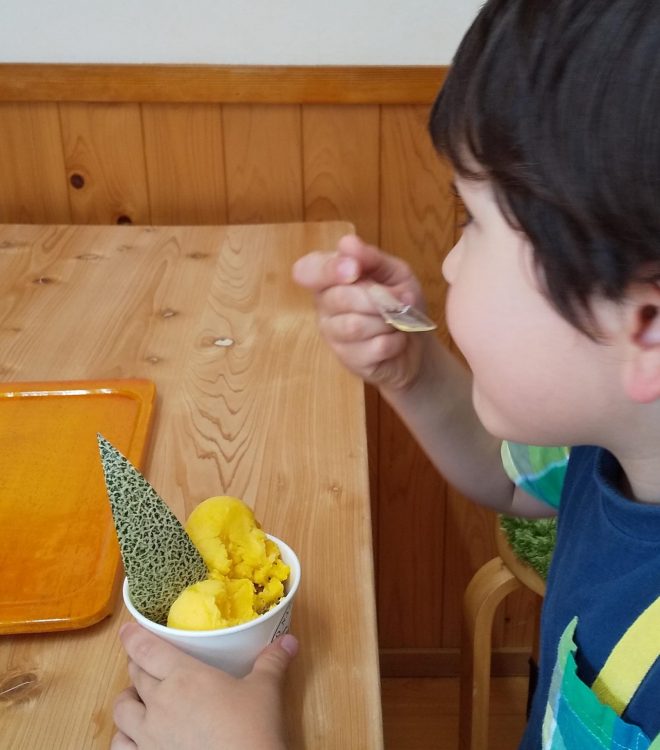 I will be back to try other flavors for sure!
Aso Tennen Ice is located at Aso shrine area, about 11min walk from Aso shrine, 8min walk from JR Miyaji sta.
If you drive, they have parking for 5 cars near the shop.
https://g.page/aso-tennen-ice?share
It is a shame that covid-19 situation is still difficult to go out.
But, you can buy their ice cream through Michi no Eki Aso online store.
If you are dying for ice cream like me, you should try that 😀 ( I am sorry, it is Japanese only though……)
https://store.shopping.yahoo.co.jp/mitinoekiaso/2940000000465.html
Enjoy fruits and vegetables from Aso in different ways!
Kana