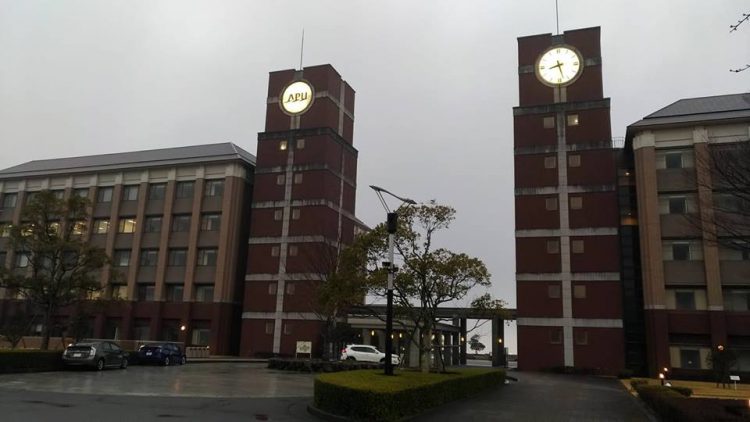 As I told you on the previous entry on this blog, I went to Beppu to participate to a symposium held at the Ritsumeikan Asia Pacific University. The title for this symposium was "Community development and revitalization through tourism". As you can guess, this is a subject of interest especially in a rural area such as Aso. Even if the talks were more about the situation in Oita prefecture, many parallels can be made with Aso and this is what I'll try to point out in today's article.
Comme je vous en parlais dans l'article précédent sur ce blog, je me suis rendu sur Beppu afin de participer à un symposium qui se tenait a l'APU ou Asian Pacific University. Le sujet de ce symposium, "Développement local et revitalisation par le tourisme", est grandement intéressant, surtout pour une région rurale tel que Aso. Et même si les exemples des sujets donnés se concentraient sur la préfecture de Oita, de nombreux parallèles peuvent être fait avec Aso et c'est ce que je vais tenter de mettre en lumière dans les paragraphes suivants.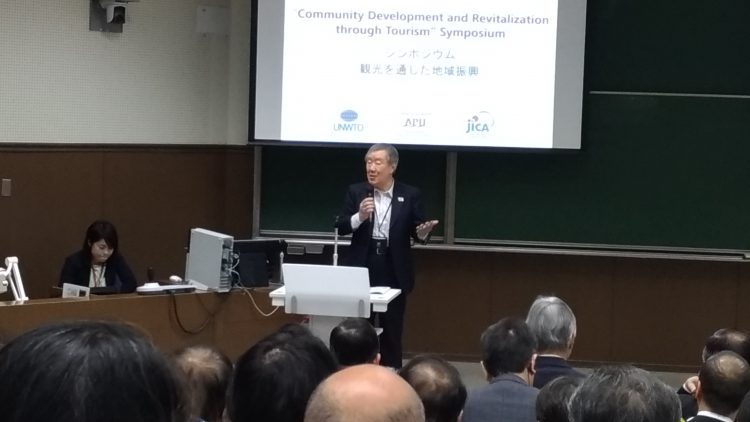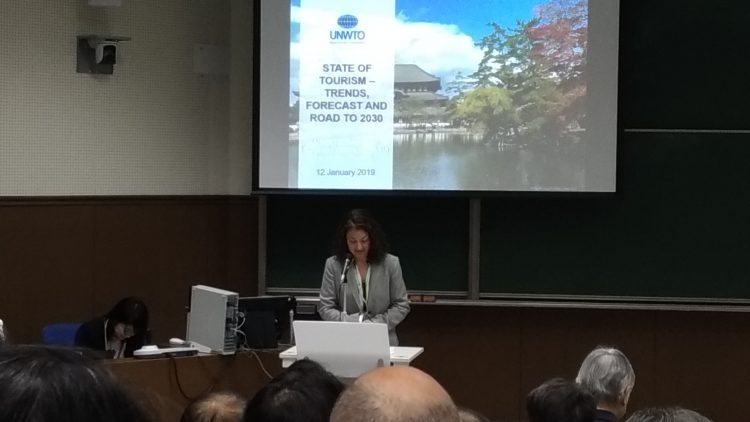 The symposium started with a short introduction by the president of the University. Tourism seems to be one of the big focus to them and new courses will be entirely dedicated to the subject in the future. Then it was followed by a short speech from a representative of the United Nations World Tourism Organisation (UNWTO). This presentation showed the actual state of tourism around the world and kind of a forecast up to 2030. As written in one of the slides, this organisation promotes tourism as a driver of economic growth, inclusive development and environmental sustainability. This three points are particularly important for Aso in my opinion and they can all be used for Aso to gain more attractivity.
Le symposium débuta par une courte introduction par le président de l'université. Le tourisme semble être l'un des principaux centres d'intérêt et de nouveaux cursus entièrement dédiés à ce sujet devraient être créé dans le futur. Cette introduction fut suivi d'un court exposé donné par une représentante de l'organisation mondiale du tourisme aux nations unis ou UNWTO. Elle nous présenta d'abord l'état actuel du tourisme à travers le monde ainsi que les évolutions à prévoir jusqu'en 2030. Comme écrit sur l'une des diapositives présentées, cette organisation promeut le tourisme comme un vecteur de développement économique, d'inclusivité et de durabilité dans le domaine de l'environnement.   Ces trois points sont a mon avis particulièrement important pour pour Aso et peuvent permettre à la région de gagner en attractivité.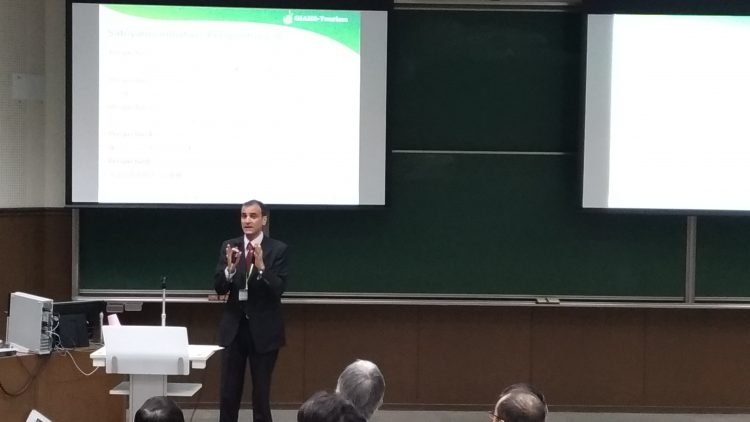 The other part of this symposium that really drew my attention was the presentation made by Dr. Kazem M. Vafadari. This time the focus was more on community development to revitalize tourism with many examples of local activities. One of the main example was Kunisaki where local communities worked in the past to realize a network of irrigation pounds that are now recognized as a Globally Important Agricultural Heritage System (GIAHS). There is only three places on Kyushu island that were recognized with this title. The two others are Takachiho and of course Aso. Aso is in that list for its management of grasslands in a sustainable agricultural manner. You may have seen on this blog several entries about Noyaki (controlled grass burning) and how the locals keep that tradition for centuries. This is unfortunately an important fact about Aso that many visitors aren't aware of. I will also add that concerning local development, Michi no Eki Aso works to preserve many treasures of Aso by supporting local communities. This is something that I will introduce more on this blog in the future.
L'autre moment important de ce symposium et qui attira particulièrement mon attention est la présentation qui fut faite par le professeur Kazem M. Vafadari. Plus axée sur le sujet principal qui est le développement local pour revitaliser le tourisme, cette présentation fut l'occasion de voir de nombreux exemples d'activités locales. Un des principaux exemples est celui de Kunisaki ou des communautés locales ont dans le passé créé un réseau de bassins d'irrigation qui sont maintenant reconnus par l'organisation des Nations Unis pour l'agriculture et l'alimentation comme systèmes ingénieux du patrimoine agricole mondial (SIPAM). Seul trois lieux sur l'île de Kyushu sont classés comme tel et il s'agit en plus de Kunisaki, de Takachiho et de Aso. Aso a été choisi pour sa gestion des pâturages dans un soucis de durabilité dans le domaine environmental. Vous avez peut être déjà vu sur ce blog des articles concernant le Noyaki (brûlage contrôlé des prairies) et de comment les locaux préservent cette tradition depuis des siècles. Il s'agit malheureusement d'un fait que peu de touristes connaissent. J'ajouterai que dans le domaine du développement local, Michi no Eki Aso travail aussi à  la préservation de nombreux trésors d'Aso par le support de communautés locales. C'est un sujet que je compte aborder plus souvent sur ce blog dans l'avenir.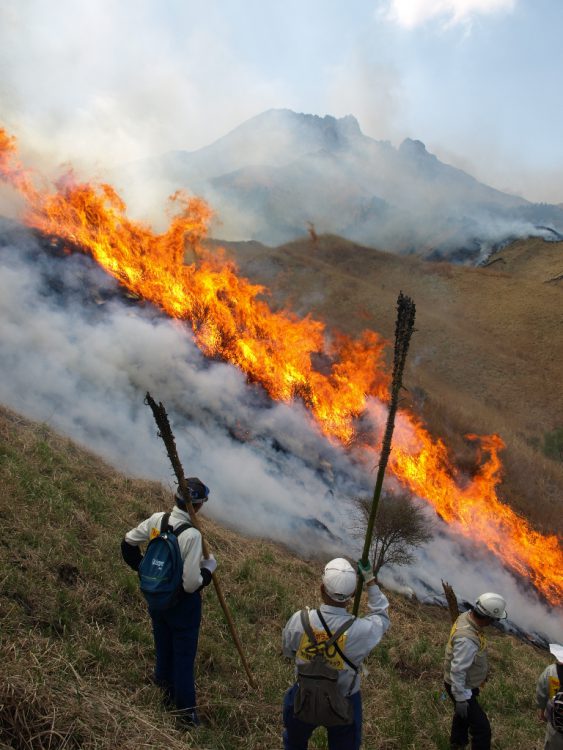 Noyaki in Aso
There was other presentations during this symposium but writing about all of them would make this article unnecessary long, so I had to choose between them. It was really informative and I'm glad I was able to go there and be able to learn so much!
Il y avait d'autre présentations durant ce symposium mais il faudrait encore de nombreuses lignes pour pouvoir en parler en détail sur ce blog. Ce symposium était très riche en informations et je suis ravi d'avoir pu apprendre autant en quelques heures!

Franck
Michi No Eki Aso
https://www.facebook.com/aso.michinoeki?ref=hl (in Japanese)
https://www.facebook.com/eng.michinoekiaso/ (in English)
https://twitter.com/MichiNoEkiAso (in English)