About Aso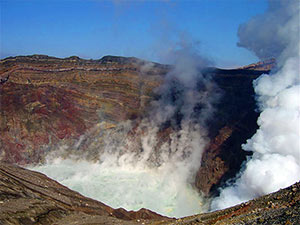 The city of Aso is situated in the heart of Kyushu island, inside a large caldera with more than 100 kilometers in circumference and with the particularity of being inhabited by about 50 000 people. Inside this caldera stands the famous Mount Aso, made up of many mountains including the five main peaks: Nekodake, Takadake, Nakadake, Eboshidake and Kishimadake. Among them the mount Nakadake is one of the most active volcano in Japan. The blue lake that lies in its crater, attracts many visitors from around the world who come to enjoy such a rare view.
Thanks to the volcanic activity and abundant spring water, Aso is also blessed with numerous hot springs (Onsen) highly appreciated by the the tourists and the locals as well. In Uchinomaki area you will find many kinds of these Onsen, private or public, indoor or outdoor.
As part of the Unesco Global Geopark network, Aso is not only recognized for its international geological significance, but also for the strong links that exist between nature and humans.
Many festivals, dedicated to nature are held throughout the year. Hifuri festival, one of the most popular, allow everyone to participate by swinging flaming straw ropes in front of Aso Shrine.
With the beautiful nature comes also the delicious food. Aso produces numerous local specialties for you to try!
Copyright© 2018. NPO法人 ASO田園空間博物館. All rights reserved.