A 9 minute straight drive along route 57 from Michi no Eki Aso you will find a charismatic little shipping container shop.
This container houses a lovely little ice cream and crepe shop named Miu Milk.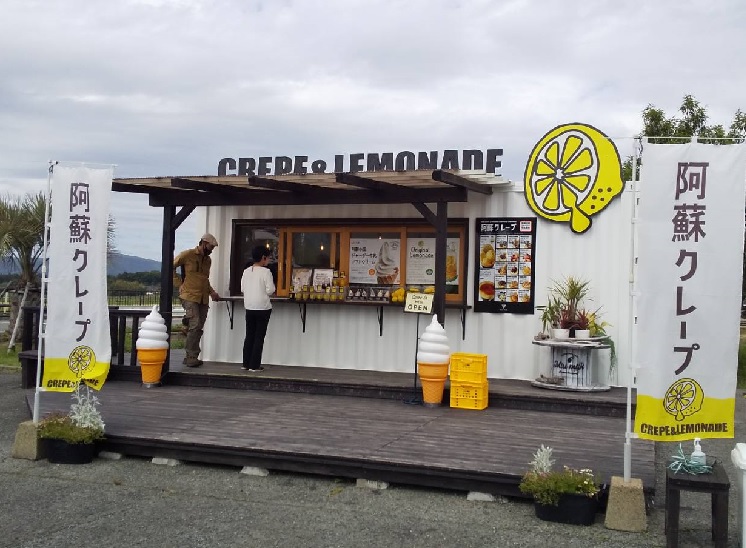 As well as producing original crepes and delicious soft ice cream, the shop also offers homemade lemonade in a variety of flavorful twists including green apple, peach and pink grapefruit.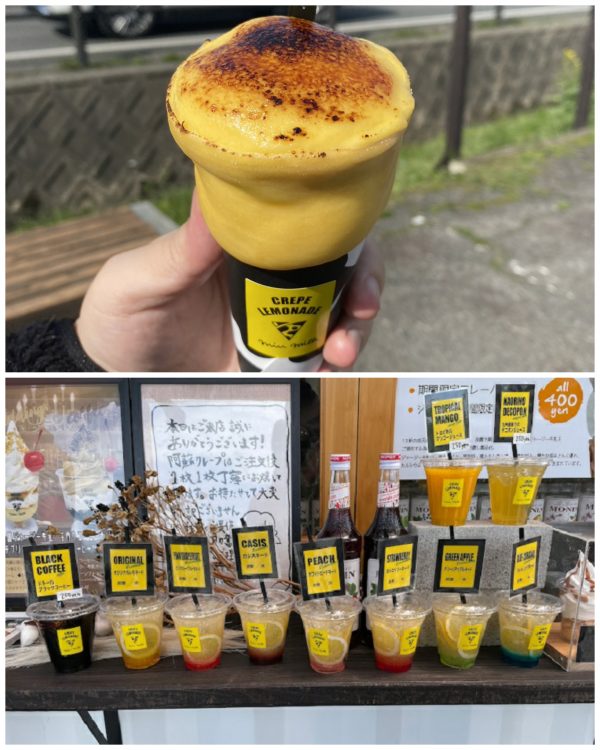 The location is situated in a great natural surrounding with ample seating to enjoy your dessert on a warm sunny day.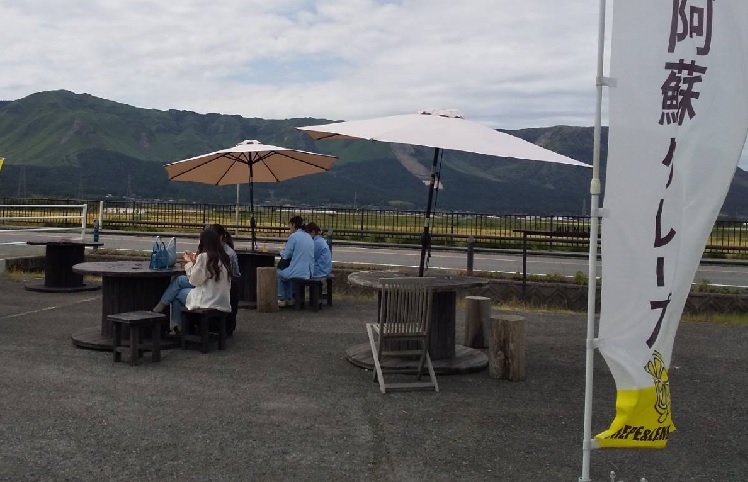 If you should feel inclined, horse riding sessions are offered just next door at the Aso Uma Bokujo and you can view the beautiful horses from the seating area at Miumilk.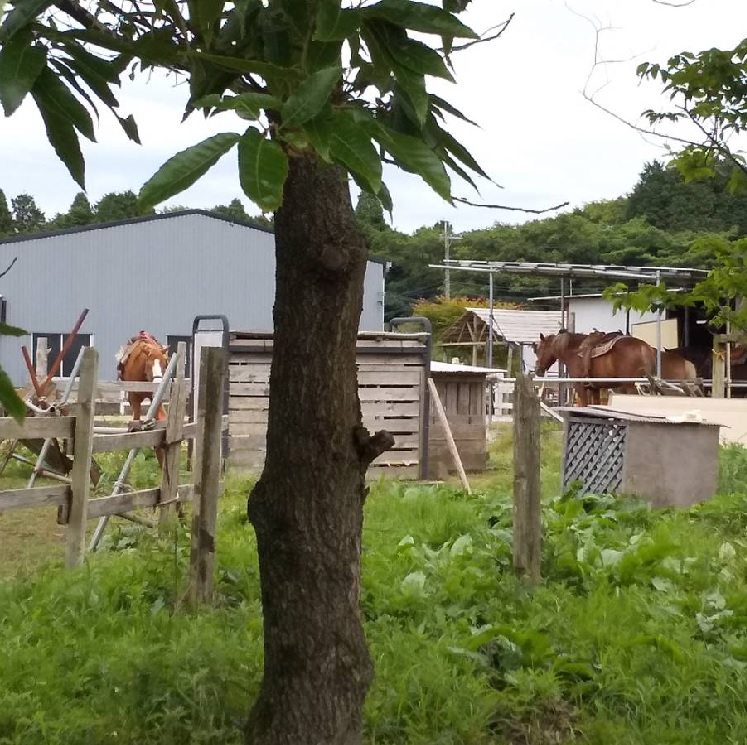 Feeling quite hungry and having not eaten all day, I decided to go for both the creme brulee as well as the chocolate and banana crepe.
Immediately I regretted the decision of ordering two as the size of the crepes were far bigger than I was expecting. Luckily I had a friend with me whom was able to lend a helping hand.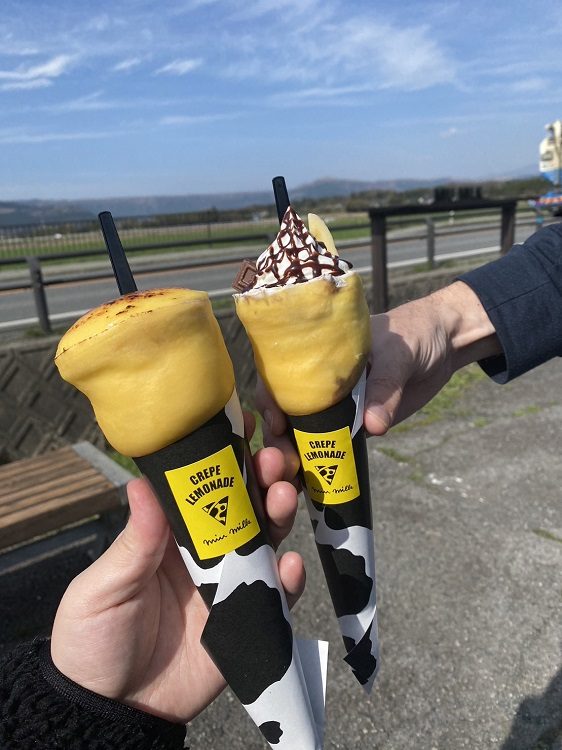 In addition, I ordered the green apple flavored lemonade which at first seemed a bit of a strange mix but was actually very delicious.
The soda was just the right level and the sharpness from the lemons made it extremely refreshing and a perfect fit for a hot day.
I did not have a chance to try their soft ice cream, which all looked really appealing but rest assured I will be back.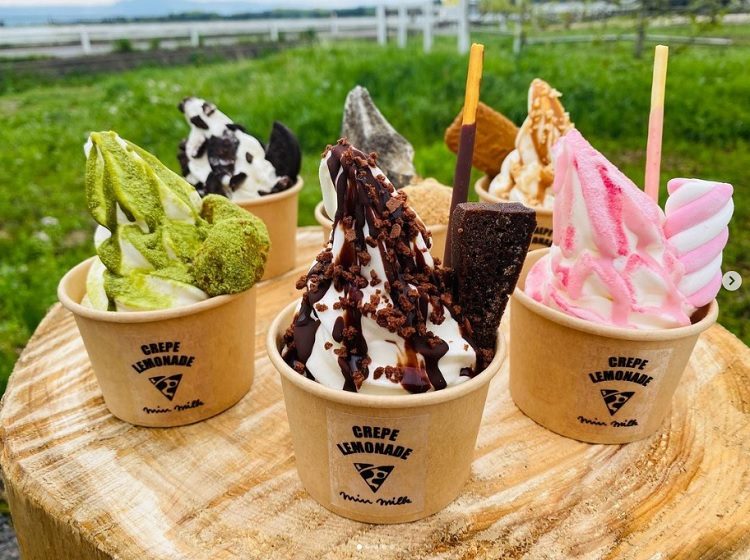 While there is a large parking area, the place is popular and can get very crowded on a nice day. On the day I visited I had to wait for around 15 to 20 minutes before receiving my order.
This however was not much of an issue as there are plenty of seats to sit and wait while enjoying the beautiful scenery.
Please be aware, at the time I visited, the shop only accepted cash payments and they did not accept credit or debit cards.
I highly recommend stopping by if you are in the Aso area and trying either their crepes or ice cream or both if you are feeling challenging.
Thank you for reading and I will be back with another Aso update soon.
Oliver