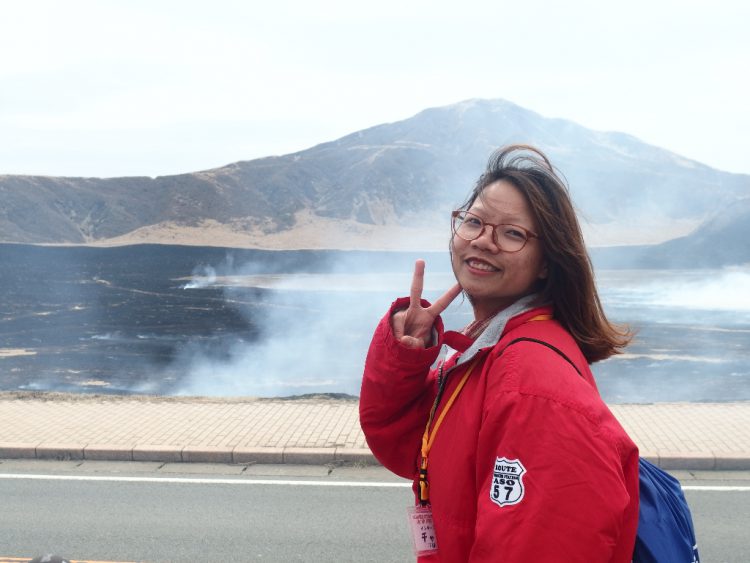 This past five days, Chan-san, was an intern here at Michi no Eki Aso. If you read the previous blog entry, you already know that we went to Kusasenri to see the Noyaki (controlled burning). But that's not all she was able to do with us as you'll see in the rest of this article.
Chan-san vient de passer cinq jours en tant que stagiaire à Michi no Eki Aso. Si vous avez lu le dernier article de ce blog, vous savez déjà que nous sommes allés voir le Noyaki (brûlage). Mais ce n'est pas tout et je vais vous en parler dans la suite de cet article.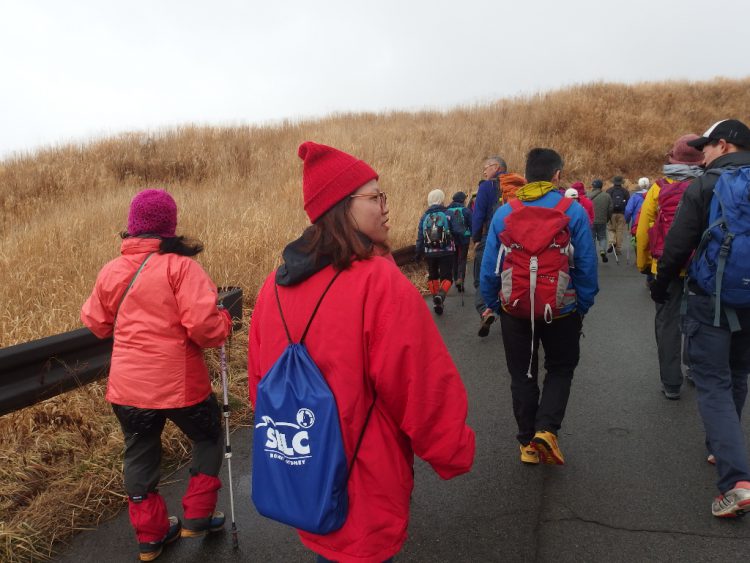 She started her internship by participating in our "pasture tour". This tour allow the participant to enter normally restricted pastures in Aso and enjoy the scenery and activities there. As you can see on some of the pictures she enjoyed her time quite a bit. She even went back the next day and was even able to speak to a tv crew about her experience in Aso pastures.
Elle a débuté son stage en participant à notre "tour des pâturages".Ce tour permet au participants de pénétrer dans les pâturages d'Aso qui sont normalement interdit d'accès et de profiter en plus des paysages, de diverses activitées. Comme vous pouvez le voir sur les photos, elle a passé un bon moment. Elle y est d'ailleurs retournée le lendemain et a également pu s'entretenir avec une équipe de télévision sur place et ainsi donner ses impressions concernant les pâturages d'Aso.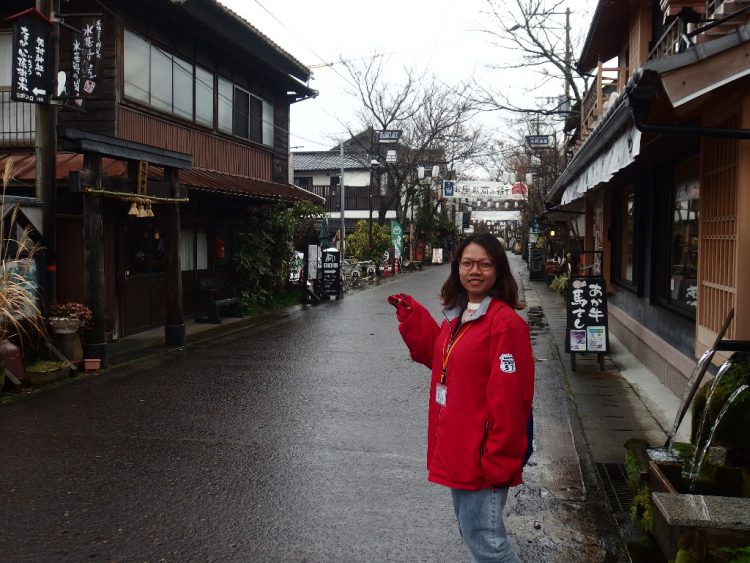 I won't write again about the noyaki at Kusasenri on Sunday so let's pass at yesterday when we went to visit Aso Shrine. Unfortunately it was raining a bit but it didn't prevent us to enjoy the area. First we went to the Shrine itself where Chan-san was able to pay her respect to the shrine's deities and to buy an omikuji (fortune on a piece of paper). She was really happy to see that she got the most positive fortune! After that we went to the shopping street next to the shrine and ate a croquette filled with horse meat and a choux cream.
Je ne vais pas écrire de nouveau sur le Noyaki de la journée de dimanche et c'est pourquoi je vais passer directement à hier ou nous avons fait la visite du sanctuaire d'Aso. Malheureusement, il pleuvait mais cela ne nous a pas empêché de profiter du quartier. Nous nous sommes d'abord rendus au sanctuaire d'Aso où Chan-san a pu faire une prière aux divinités du sanctuaire mais aussi acheter un omikuji (sorte d'horoscope sur papier). Elle était vraiment heureuse de voir qu'elle avait reçu l'horoscope le plus positif possible! Puis, nous sommes allés dans la rue commerçante où nous avons pu manger un croquette à la viande de cheval et des choux a la creme.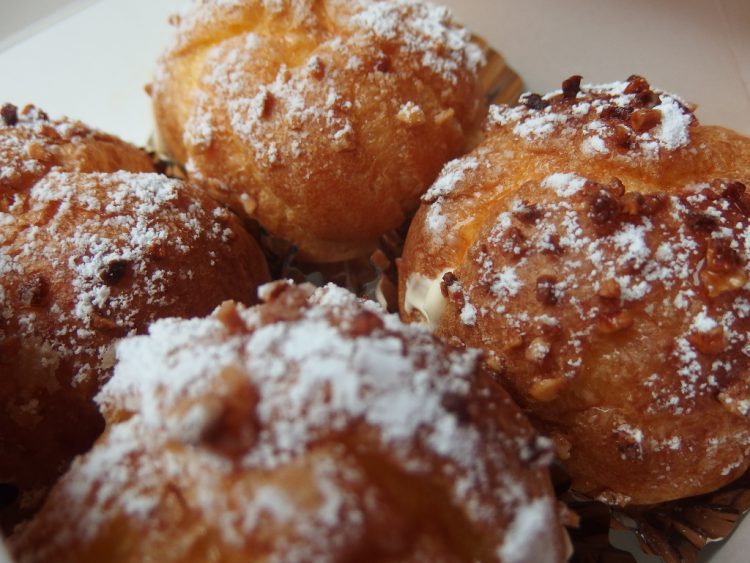 Today's her last day in Aso and one of my colleague bring her to the Daikanbou and the Nakadake crater. Unfortunately, it is quite cloudy outside and they wasn't able to enjoy the scenery as much as you can on a clear day. Nevertheless, it seems they have a good time going all around.
Aujourd'hui est son dernier jour sur Aso et elle est partie avec une de mes collègues au Daikanbou et au cratère Nakadake.  Malheureusement encore, le temps est plutôt nuageux et elle n'ont pas pu profiter des paysages au mieux. Quoiqu'il en soit elles semblent avoir passer un bon moment.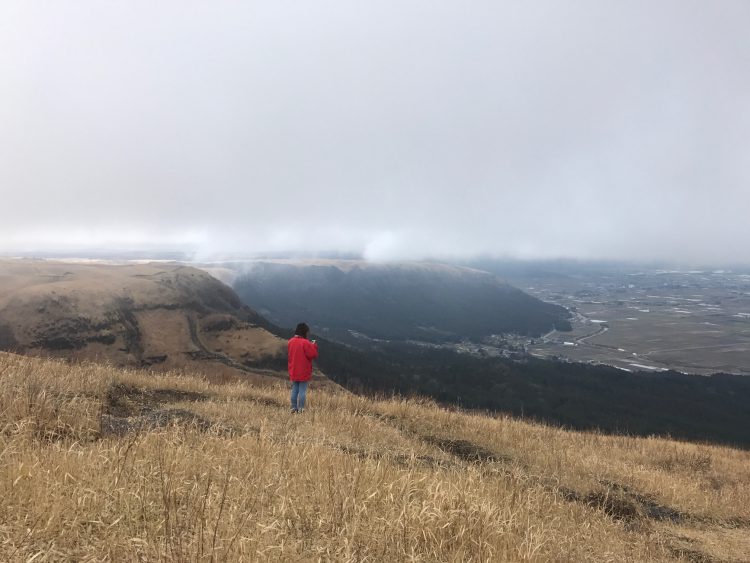 I hope Chan-san enjoyed her time with us at Michi no Eki Aso and that she was able to learn as much as possible about Aso. Five days can be a short time to enjoy everything that Aso has to offer, especially when the weather isn't that great, but I'm sure she doesn't regret staying with us. Finally I hope she'll introduce Aso to all her friends and family in Vietnam! See you soon in Aso!
J'espère que Chan-san a passé un bon moment en notre compagnie a Michi no Eki Aso et j'espère aussi qu'elle a pu en apprendre le plus possible concernant Aso. Cinq jours, ce peut être court pour bien profiter d'Aso, surtout avec le mauvais temps, mais je suis certain qu'elle ne regrette pas son passage chez nous. J'espère qu'elle aura pleins de belles choses a dire sur Aso à sa famille et à tous ses amis au Vietnam! A bientôt sur Aso!