Hi everyone,
Rainy season started here in Aso and was raining cats and dogs since two days ago, how about the weather in your respective country?
I had a chance to attend a seminar held the other day on 4th Jun at Aso Volcano together with my colleague. The topic of the seminar was by the subject" Let`s get to know Aso once again". It was such a good opportunity for me to learn more about Aso so that I will be more informative when required to share information to our visitors from round the world.
By the way, did you know that below is a taxidermy wild boar displayed at Aso Volcano museum? Take a closer look when you have a chance to visit.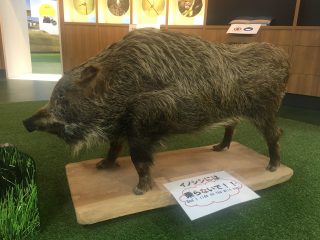 On arrival, we were given a handful of pamphlets about Aso Unesco Global Geopark covering places such as Oguni Area Hot Spring, Soyokyo Gorge Geosite, Ikeyama and Yamabuki Geosite, Kusasenri Geosite, Uchinomaki Hot Spring Geosite, The Deity of the Volcano Geosite and etc, at the same time we also received souvenirs of an L shaped file with Aso crater and mountain on the background and a limited badge from Aso Museum.
This is an hour seminar and it seems to have so much to cover; an hour isn`t much sufficient to cover in detailed however; I managed to learn some of the information about Aso and did you know how many times Aso mountain erupted to form the present Aso caldera? It`s total of four large-scale eruptions and a caldera isn`t the same as a crater and so what`s the difference? Well, craters were created by the outward explosion of rocks and materials from a volcano and is less than 2km in diameter while calderas are created by the inward collapse of a volcano and is more than 2km in diameter.
It was said that there is potential risk of Aso volcano eruption and we must be reminded by the alert level below.
And at current Aso Volcano alert, it is still at level 2 which indicates no one is to approach the crater with 1 km off-limits; and other level alert are as written below:
Level 5: Everyone living around Aso are to evacuate from the place immediately.
Level 4: Everyone are to prepare to evacuate from Aso.
Level 3: Do not approach to Aso Volcano including the museum.
Level 1: There may be potential for volcano activity and depending on the condition, access to the crater maybe allow.
Although we aren`t able to approach the crater now; but do you know that right in the museum, you can observe the condition of the crater through real time video which was installed on the walls of Nakadake crater. Why don`t you visit the museum during your stay as there is so much you can learn about Aso in the museum?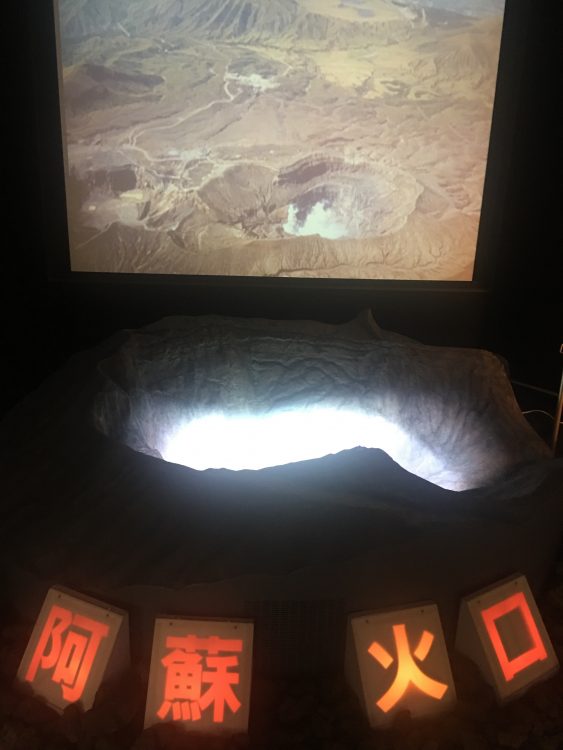 During the seminar, there was also demonstration by the staff in charge, wheat flour and a balloon was used as a quick learning illustration on how the huge eruption of volcanic activity which formed the rim of the crater. You may wish to click on below YouTube link to have an idea on the learning illustration: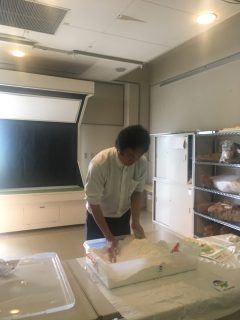 Perhaps some of you may already know the above information; however, I hope it does add some insights to some of you who may not be aware of it.
I must say that after this seminar, there are still quite a handful of information I needed to digest and read up due to the long history background.
By the way, should you be planning to make a trip down to Aso Volcano Museum, kindly note that follow the current Covid 19 situation, there`s changes of Aso Volcano Museum operating hours from 1st June 2020 till 15th July 2020, admission hours are from 10am till 4 pm.
Once again, thank you for reading our blog ☆_Yoshimi