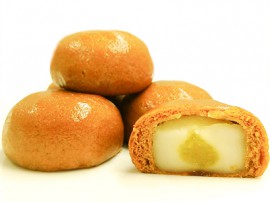 540yen(pack of 10)
Awarded with the honorary president award at the Japanese sweets olympics organized at the National confectionery exposition in 2008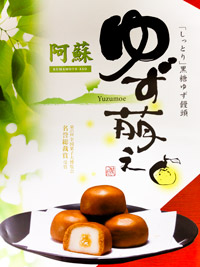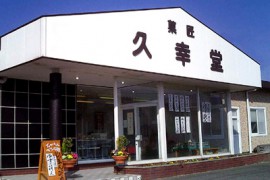 An old confectionery shop in Aso that keeps on researching and improving its products day after day for about 50 years!
Brown sugar, Yuzu (Japanese citrus), Manjū (Japanese filled bun)
An elegant white strained sweet bean paste filled with Yuzu jam and recovered with a soft layer of brown sugar that gives to the Yuzumoe a moist mouthfeel. This is a really popular Aso sweet with wich you'll be able to enjoy the sweetness and aroma of Yuzu spreading into your mouth.
Available only in Kumamoto and Aso
Currently, Yuzumoe is only available in Aso city and at Kumamoto airport.
It is a premium sweet difficult to obtain for people from distant places.
The best taste for the customers
No preservatives added. We want our customers to enjoy a sweet as tasty as possible.
That's why  we recommend to eat Yuzumoe in the following three days.