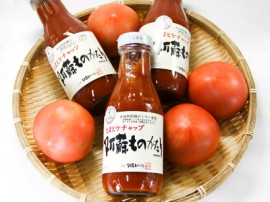 210g 420yen
400g 680yen
Awarded with the golden prize of the processed agricultural foods contest at the joint sponsorship convention of Kumamoto prefecture and the Kumamoto prefecture processed agricultural product promotion group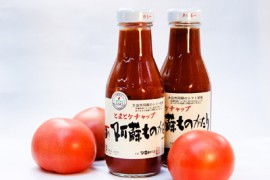 Aso tomatoes
The tomatoes produced in Kumamoto prefecture are Japan's number one.
Among them the ones from Aso have a good balance between sweetness and sourness thanks to the fact that they were cultivated in a cold highland.
Handmade by locals
Aso Monogatari Tomato Ketchup is delicious.
It is cooked by locals for more than Four hours with ripe tomatoes, onions and secret spices.
The kids love it
It is a really popular Ketchup for kids because of its sweetness and low sourness.
It matches very well with Omurice (omelette filled with fried rice), Japanese hamburg steak or pasta for example.
※It is a really popular Ketchup that made an appearance in the Docchi No Ryōri Show on Japanese television.